It is a surety that all the tech savvies out there are very excited about the latest version of the Thunderbolt, namely Thunderbolt 4! This write-up will tell you everything you need to know about the best Thunderbolt 4 laptops that you can buy. Before getting into the specifics, here's a brief history of the thunderbolt and why this new interface will matter in PCs in 2023!
Thunderbolt was first seen on a MacBook Pro in 2011. There was a tiny DisplayPort connector on the physical port with a lightning-strike symbol next to it. There are two technologies integrated into one cable: DisplayPort and PCI Express. DisplayPort 1.2 was introduced to Thunderbolt 2, which quadrupled the interface's speed to 20Gbps. Thunderbolt 2 is capable of driving 4K displays.


Thunderbolt 3 more than quadrupled the data bandwidth to 40Gbps. As a result, Thunderbolt 3 no longer uses mini DisplayPort as its physical interface instead of relying on USB Type-C. Thunderbolt 1 and 2 also relied on small DisplayPort. There's also USB Power Delivery (USB PD), so you can charge your phone and other USB devices from your PC or even a laptop, via the connection. Besides Thunderbolt networking, the Thunderbolt 3 specification includes 10Gb Ethernet. There was adequate video bandwidth for a wide range of uses, from docking stations that could also charge your devices to extra GPUs that might boost a laptop's graphics capabilities, all of which were enabled by Thunderbolt 3.
Thunderbolt 4- Making and Features:
Thunderbolt 4 is based on Thunderbolt 3 and connects via a USB Type-C connector. Also, not all Thunderbolt 4 connectors on a laptop are USB-C ports.
Thunderbolt 4 has several advantages. Listed below are some of the specifications:
Displays up to 4K resolution can be connected through Thunderbolt 4
A pace of 40GB per second can be transferred constantly.
Charging at high speed
The software supports docks
Touch the keyboard or mouse to wake the PC or laptop from sleep mode when connected to a Thunderbolt dock.
Direct Memory Access (DMA) is available in Thunderbolt 4
Difference between Thunderbolt 3 and Thunderbolt 4
Compared to Thunderbolt 3, Thunderbolt 4 does not offer any mentionable advancements. Aesthetically, the two methods appear to be very similar to one another.
The USB Type-C physical connector is used in both products. A maximum of 40Gbps can be achieved with each of these devices. In both cases, the charging power ranges from 15 to 100 watts. In addition, each of these products has the capability for 10 Gbps networking. Thunderbolt 4 provides a variety of advantages that aren't readily apparent.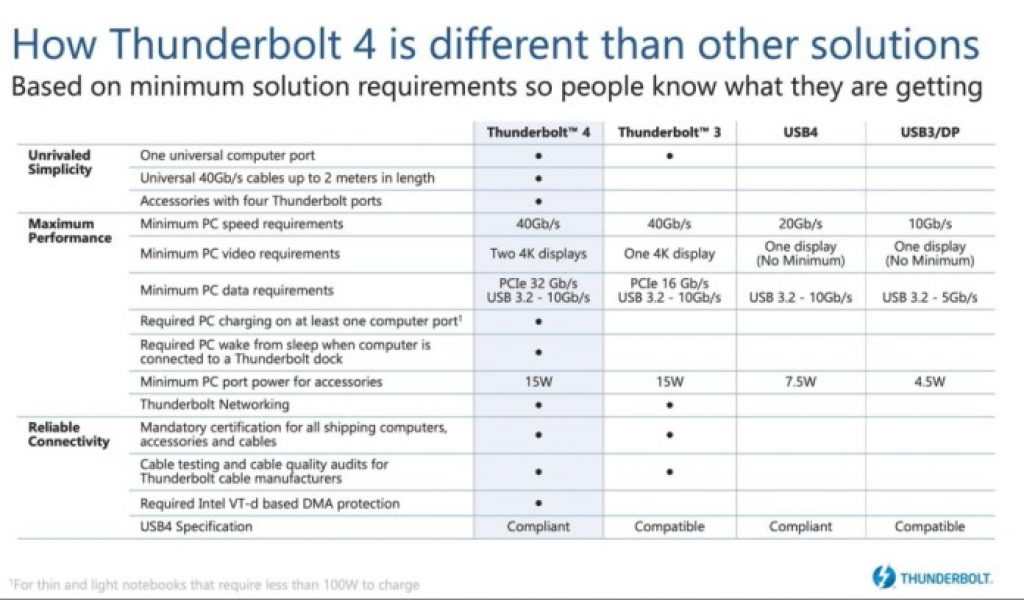 Thunderbolt 3's minimum video and data requirements are doubled. Two 4K displays, or one 8K display, will be supported by Thunderbolt 4, but Thunderbolt 3 can only support a single 4K display.
Thunderbolt 3 systems must offer a 16Gbps data rate over PCI Express; however, Thunderbolt 4 systems must support a 32Gbps data rate. Anyone who often uploads huge high-resolution video files and other large data sets from storage drives to their PC for editing will undoubtedly benefit from the extra bandwidth.
Thunderbolt 4 will also make peripherals more capable. It is not uncommon to see Thunderbolt 4 docks and displays with four Thunderbolt 4 ports, more than double the two Thunderbolt 3 ports.
A Thunderbolt 4 connector supports USB Type-C charging for new thin-and-light laptops that require less than 100 watts of power to charge. Also, Thunderbolt 4 laptops wake up from sleep mode when connected to Thunderbolt 4 docks using a keyboard or mouse.
Up to two meters of Thunderbolt 4, cable length will provide 40Gbps performance, up from the 0.5-meter limit of Thunderbolt 3 cables.
When daisy-chaining Thunderbolt devices, up to six can be connected to your computer without each device requiring a direct connection. You'll have more versatility in setting up your workspace thanks to Thunderbolt 4's charging and wake-from-sleep capabilities, as well as the longer cords.
How to choose the proper thunderbolt 4 laptops for yourself?
Evaluating the best gaming or business laptops on the market is always a challenge. We cannot invest as much in laptops as smartphones because notebooks are much more heavy-duty than smartphones.
It takes hours of product research, performance benchmarking, and user input to reach a firm conclusion about the best laptop. The following picture is the recommended hardware and software requirement by experts that you can use as a guide to compare against: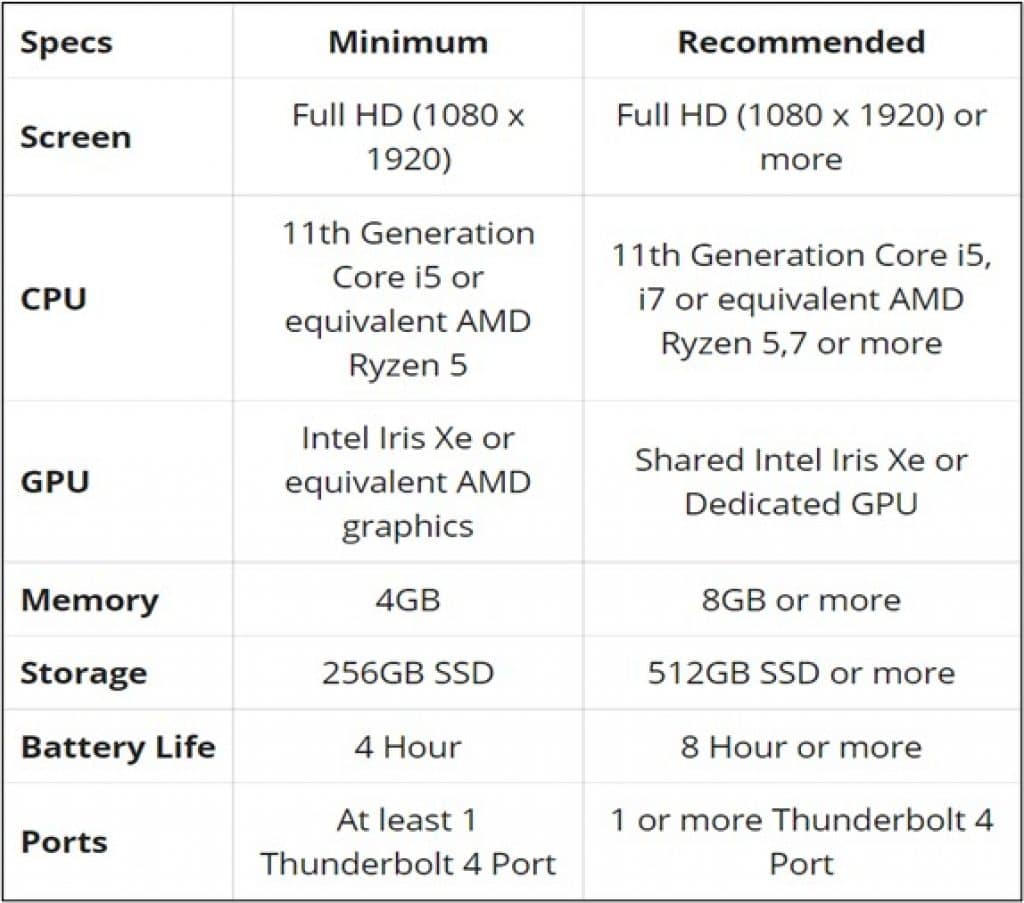 Now let's dive into the handpicked list of Thunderbolt 4 laptops that will best suit your requirements!
Selected Thunderbolt 4 Laptops in 2023
Razer Blade Stealth 13 Ultrabook Gaming Laptop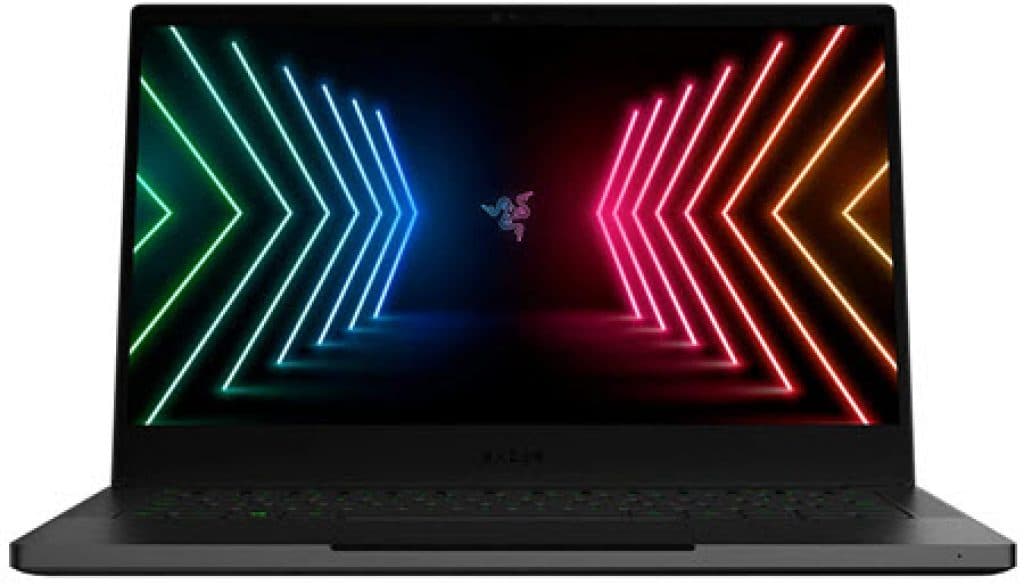 If you want to buy a laptop with thunderbolt 4 ports, you need to think about the high-end activities you want to do. The Razer Blade is one of the most powerful laptops available, and it includes two Thunderbolt 4 ports that handle the full range of Thunderbolt 3 capabilities. The Razer is also slightly smaller, with dimensions of 11.9 x 8.27 x 0.6 inches, a starting weight of 6.07 pounds, and is manufactured of CNC aluminum. The base model includes a 1920 x 1080 no-touch 120Hz thin bezel matte display for maximum gaming performance. It also boasts a four-zone illuminated keyboard and a valuable touchpad. The Thunderbolt 4 Dock chrome has a standard style; it is a large, substantial black box.

For your laptop, there is a separate 90-watt outlet with plenty of power. If you're looking for top-tier gaming performance, the 11 generations Intel Core i7-1165G7 4-Core processor will deliver. NVIDIA GeForce GTX 1650 Ti Max-strong Q's performance lets you enjoy quicker, smoother, and more detailed games. There is a 16GB dual-channel memory that allows you to download and run many games simultaneously. Enough storage space for a large amount of data is provided by the 512GB SSD onboard.

When combined with USB-C, Thunderbolt 4 technology in the new Razer Blade creates one tiny port that does it all. Chroma Razer thunderbolt 4 docks with four ports. Thunderbolt 4 is supported via two USB –C ports and one USB 3.2 Type-A port. There is also an SD card reader and an Ethernet port (RJ-45). Razer chroma lets you have 100 per cent RGB. Windows 10, Wireless connectivity, HD webcam, THX audio, and long battery life are just a few of the qualities that make this gadget a healthy choice.

[content-egg module=Amazon template=custom/simple_list next=1]
---
ASUS ZenBook Flip S 13 Ultra-Slim Laptop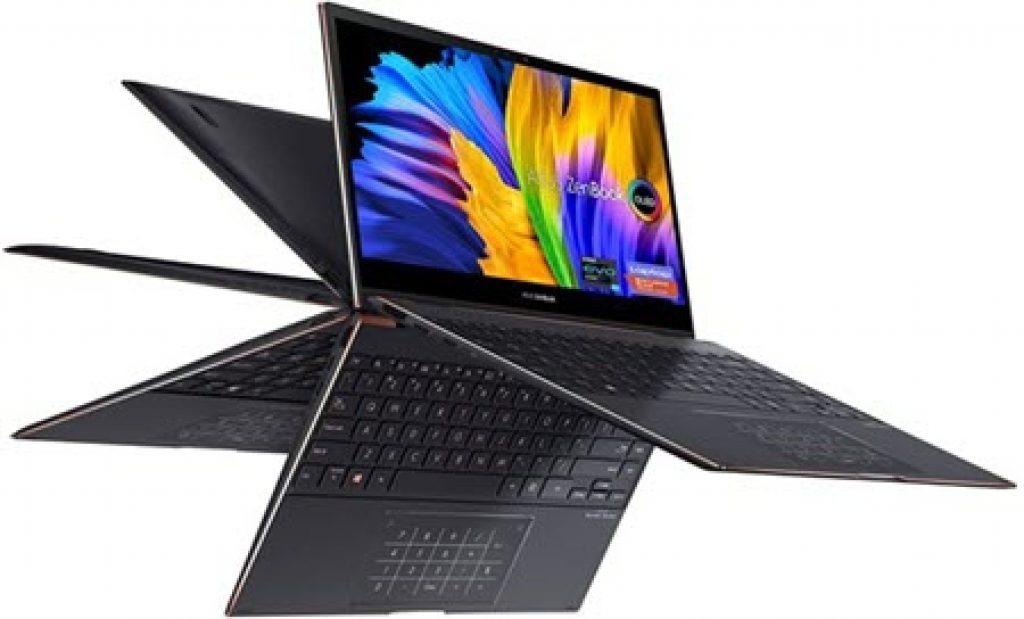 If you're shopping for a new laptop with thunderbolt 4 ports, you're in luck. Everything from the attractively designed devices with all-out power is at your fingertips! ASUS goes all out in terms of display; it weighs just 2.65 pounds, measures 12 x 8.3 x 0.55 inches, and the case is built of aluminum alloy.

When you open the lid, the rear of the base unit is gently raised, thanks to a 360 degree Ergo Lift hinge design. With a 13.3-inch 4k OLED display and a touch screen, you may enjoy a gorgeous picture on this laptop. You receive a high 16:9 contrast ratio, 3840 x 2160 pixel resolutions, and 400 nits HDR display thanks to the incredibly low black value of the screen. As far as you are concerned, the keyboard is a particular feature. It is quiet, comfortable, and has a lot of travel. Smooth and gliding, the touchpad may be clicked, however, it produces a loud clicking noise.

With an ASUS Pen, you can write and draw in any app that supports an ASUS pen. The 11th Generation Intel Core i7-1165G7 CPU, with a clock speed of up to 4.70GHz, is a high-quality and super-performer. Generally speaking, the GPU is powerful enough for gaming. The Zen Book Flips has most of the ports we require daily. You will find HDMI, two USB-C ports supporting Thunderbolt 4 and a single USB-A port.

It also has wireless connectivity such as Wi-Fi 6 & Bluetooth 5.0. It has a decent 15 hours battery that should be helpful most of the time. This laptop comes with 1TB PCle NVMe M.2 SSD & LPDDR4X RAM.

[content-egg module=Amazon template=custom/simple_list next=1]
---
Dell 9310 XPS 2 in 1 Convertible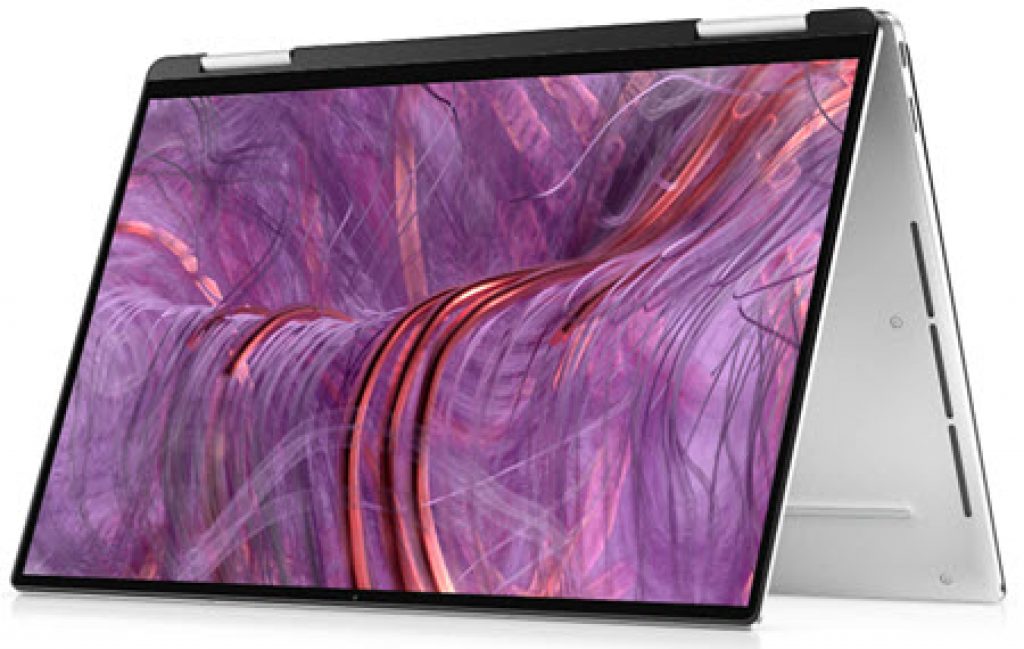 As a creative worker, Thunderbolt laptops will make your life a whole lot easier, thanks to their high-speed data transfers. So you will be able to save all your work on one of your Thunderbolt 4 devices and quickly transfer them to whichever device you then have to work on!

The Dell XPS 9310 laptop is equipped with an Intel Core i7 processor and a 512GB solid-state drive. As a result of your purchase, you'll have access to a laptop that can do practically whatever you need it to accomplish.

In tablet, tent, and presentation modes, the screen can be rotated 360 degrees. With a 13.4-inch screen that's available in either FHD 1920 x 1200 or 4k UHD 3840 x 2400 resolutions, this laptop is easy to tote around. The silver exterior is uninteresting when paired with the black fiberglass. The interior is more unique and sleek to look at.

With its Maglev switches, the keyboard's keys have a terrific pop and provide a good typing experience. Also, the vast Windows precision glass touchpad performs flawlessly.

Variable torque hinges make it easy to open the laptop and provide a more firm platform when using the touchscreen. When the chassis is opened, two hands are required, one to hold the base down and the other to lift the lid, and the hinges are strong enough to hold the screen at whatever angle you choose!

You will find several possibilities when it comes to connectivity. There is a 3.5mm headset jack and Thunderbolt 4 port on the right side. On the left side, you will find a USB-C adapter with HDMI, VGA, USB 3.0, and Ethernet ports. Windows 10, Intel Core i7 processor with Intel Iris Xe graphics, 32GB LPDDR4x RAM, 512GB SSD, fingerprint reader, and dynamic tuning technologies make this computer more resilient and gives you a multi-dynamic user experience.

[content-egg module=Amazon template=custom/simple_list next=1]

What is Thunderbolt 4 and how it can affect your computing experience on a laptop? Watch the below video.
---
Acer Swift 5, 14″ Full HD Touch Laptop with Thunderbolt 4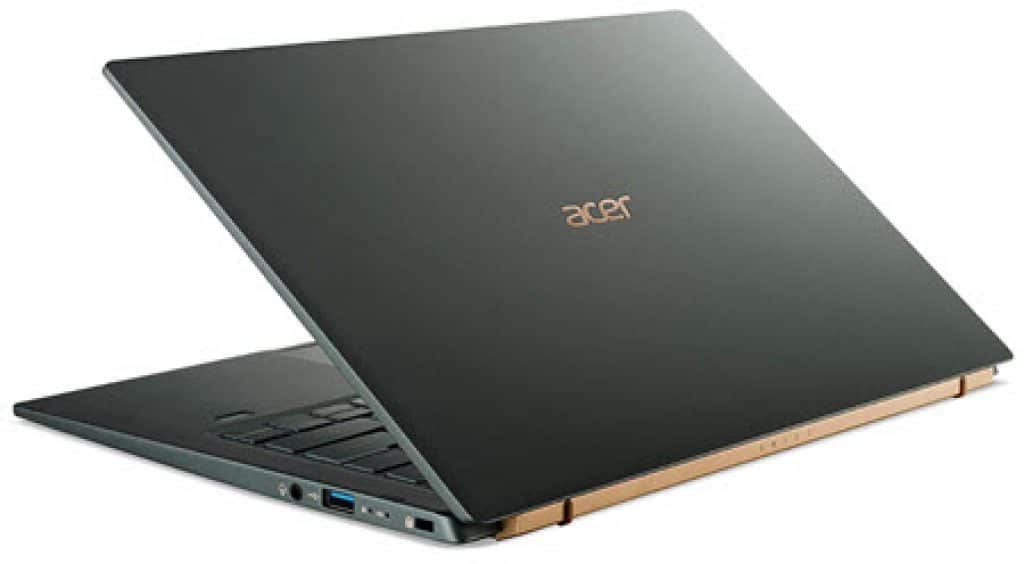 Your gaming environment will be neater and more controllable with a thunderbolt 4 port, allowing you to connect all the devices you desire without hassles. Acer Swift 5 is one of the best laptops with Thunderbolt 4 connectors.

The 14 inch Full HD IPS touch screen with 340 nits of brightness and antimicrobial corning gorilla glass provides vibrant and beautiful colors in any environment. 90% screen-to-body ratio is achieved with slim bezel designs. Thanks to its large trackpad and illuminated keyboard, this laptop is easy to operate and delivers a comfortable typing experience. Your machine can be protected using a fingerprint reader. The battery system is phenomenal because of which it runs for approximately 17 hours, allowing users to browse the web and watch movies for a prolonged period.

One huge downside is that the narrow chassis puts a lot of strain on the cooling system.

You can maximize every activity with the latest 11th generation Intel Core processor and integrated Intel Iris Xe Graphics. 1TB PCle SSD Storage & 16GB LPDDR4X memory are also included.

When in modern standby mode, you can also activate and query Windows 10 with Wake One Voice to interact with Cortana. Furthermore, this product makes full use of many connections, including USB-C, Thunderbolt 4, and USB 2.0 Gen 2 for rapid data transfer and power delivery.

[content-egg module=Amazon template=custom/simple_list next=1]
---
ASUS ExpertBook B9 Thin & Light Business Laptop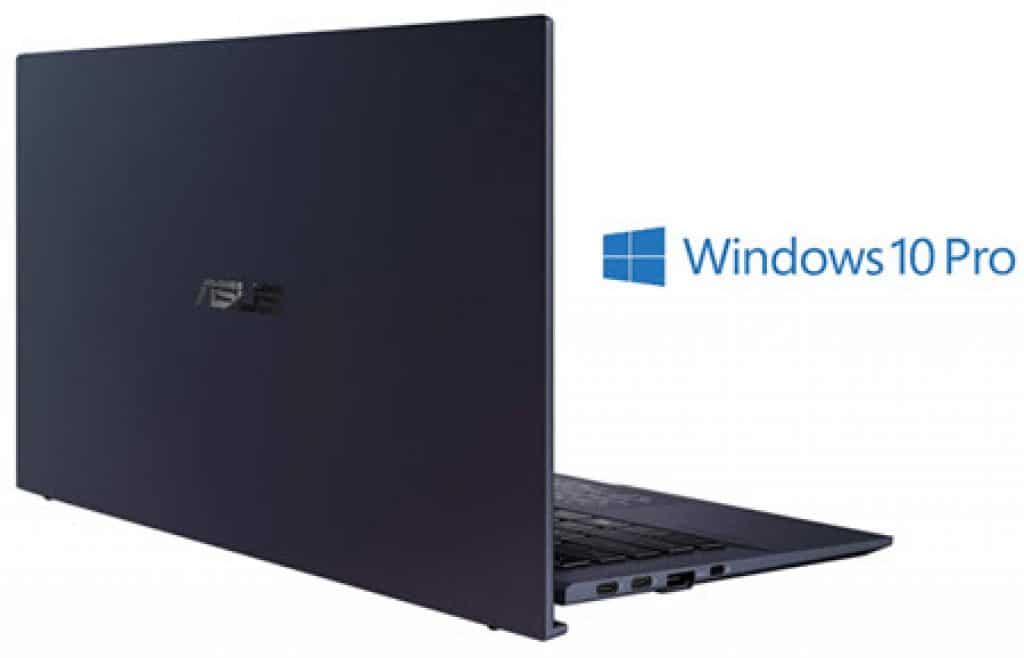 If you're looking for one of the best Thunderbolt 4 laptops for business, the latest ASUS Expert Book B9 has plenty of ports, including a Thunderbolt 4 enabled Type-C USB connector. If you're looking for raw power, this is the laptop for you.

When you first take up a laptop, the unexpectedly light Expert Book B9 weighs only 2.2 lbs and features a strange, almost black hue. Because of the EvgoLift hinge, the light may be opened. As a reminder, the Expert Book B9 boasts a 14-inch IPS panel with Full HD resolution (1920 x 1080p) and 300 nits of brightness, as well as a 100 per cent sRGB color gamut, according to the manufacturer.

This machine has been tested to military MIL-STD-810H standards, allowing it to survive stress, falls, vibration, and extreme heat and cold. The system is compatible with the new Wi-Fi 6 wireless bar.

This model has a full-size keyboard with white accents and lengthy key travel, as well as a reasonable palm. The touchpad is quite wide, smooth, and responsive, and it supports all of the Windows 10 movements. It also includes a long-lasting battery with a capacity of up to 20 hours, allowing you to do everything for an extended period.

It also comes with a webcam with an infrared sensor, which is required for facial recognition in Windows 10. At the same time, the Harman/Kardon speakers can create reasonably clear auditory experiences.

In terms of RAM and SSD, the 16GB memory and 1TB SSD provides ample space for The Intel Core i7-1165G7 processor with Iris Xe graphics, on the other hand, deliver smooth and rapid performance for games and multitasking. Everything works on the most recent version of Windows 10, which includes support for this laptop's capabilities, so you can open as many tabs as you like.

[content-egg module=Amazon template=custom/simple_list next=1]
---
This listing can help you be confident in the quality and reliability of Thunderbolt 4 laptops. If your laptop has a Thunderbolt port, you can experiment with its versatility in several ways. Thunderbolt 4 offers not only global compatibility but also high-resolution displays at lightning-fast speeds! The T4 port is unsurpassed in performance and versatility compared to other ports like USB or HDMI. It is your time to experience these perks and choose a laptop that is most suited to your needs!