Some of you might be shocked to read the title that laptops are available in the touch screen now with amazing options. Not very long ago, the race of touch laptops was started by ASUS which introduced the T100 model laptop with a detachable display running Windows 8. The device wasn't too costly either and had a price of just $349, well within the reach of laptop lovers. Dell has taken part in the race as well by introducing detachable-screen laptops of INSPIRON series. However, the screen size will not be large. It will support only portable 11" screen. Dell has claimed that they will try to bring the prices down to the level of ASUS using AMD processors. However, the Intel model will be slightly costly around $379. According to Dell, the laptops with touch screens and detachability will have extended battery life with free versions of Microsoft Windows, which is a high advantage.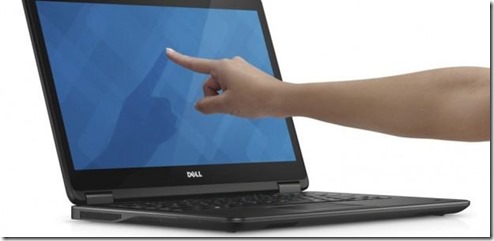 Touch screen laptop with Windows 8.1 is fascination for all laptop lovers. Windows 8.1 is quite a good operating system with enhanced capabilities for multitasking, better selection of already loaded Apps, improved searching and better for touch use than on desktop PCs.
There are some Pros and Cons associated with these types of laptops as described below.
You can find good and even touch screen laptop with Windows 8.1 in the price range between 250$ to 300$
The Pros of Touch screen laptop with Windows 8.1
· The touch screens allow better manipulation by users very similar to touch screen smart phones.
· Windows 8.1 is designed for use on touch screen laptops, as opposed to desktop PCs. It has all the features designed for touch screen.
· The touch screen option will allow faster tracking of various options as compared to scrolling mouse.
· Tapping on screens look more intuitive approach than double clicking, hence making it user friendly.
· Zooming in and out using fingers is very simple and no need to find tabs for zooming into the screen.
· Dell is claiming to provide battery time of 8 hours in touch screen laptops.
Here are few best touch screen laptops below 500 dollars
The Cons of Using Touch screen laptop with Windows 8.1
· The touch screen laptops tend to be more sensitive as compared to other laptops and are prone to get damaged if used roughly.
· Using too sensitive touchpad will cause unintentional scrolling of the screen.
· The screen size is not bigger than 11" till now, which is perhaps small for regular laptop users.
· Touch features may not be reliable for a long time.
· Using touch features too much will put finger prints all over the screen and your hands might get tired of tapping.
In short, the pros are enough to convince that Touch screen laptop with Windows 8.1 is really worth considering the option in the world of innovation today.