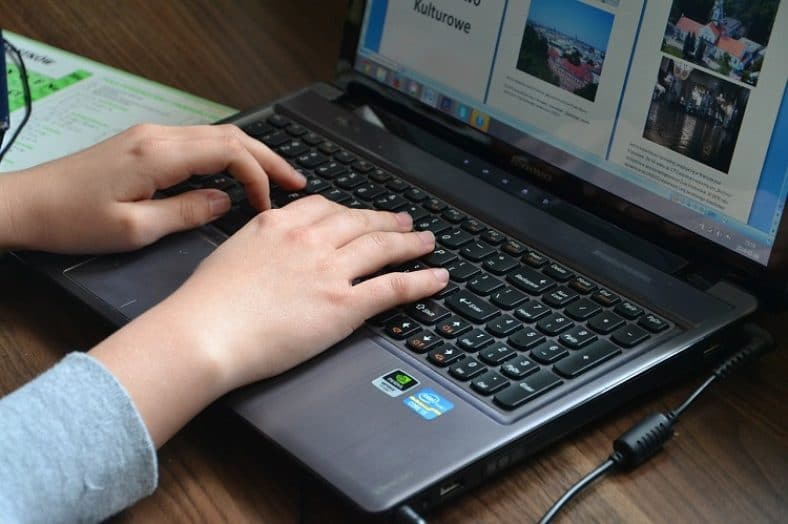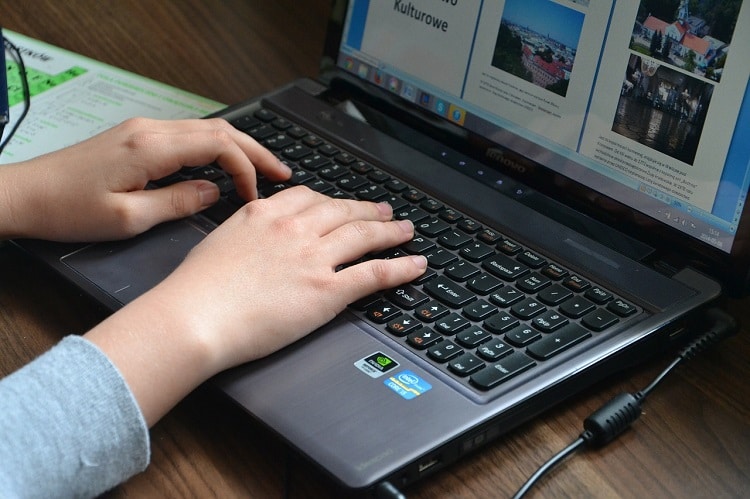 It is often said that 8GB RAM and quad-core i5 processor would suffice your basic need irrespective of the brand or the reason you are buying a laptop
However, if you are buying your laptop for content creation, prototyping, coding, or even if you deal with a large database daily, a laptop with 16GB RAM and quad-core i7 processor is an absolute necessity.
A majority of Programs and software like Adobe premiere pro, lightroom classic, Davinci resolve, and even PowerPoint and Excel can easily take up the RAM's most space.
Just by opening a few tabs of firefox or chrome, you will see the consumption of RAM shoot up. So if you deal with heavy tasks daily, then you will require a system that keeps up with your demanding needs, So it is advisable to go for a laptop with quad-core i7 and a minimum of 16GB RAM.
If you are still confused and don't know how a laptop with the Intel quad-core i7 processor and 16GB RAM will be beneficial for you, here are other reasons why we recommend these Laptops. In this article, you will also learn how quad-core i7 is beneficial. You will also find a list of top 7 best laptops with quad-core i7 and 16 GB RAM. In the end, we have answered a few frequently asked questions for your better understanding.
What is Intel Quad-Core i7 Processor?
Intel quad-core i7 processor is a proper powerful processor that is capable of handling various demanding activities like compiling large programs, large spreadsheets, content creation, internet browsing, etc. and when this is combined with powerful GPU of up to 16GB RAM you can even perform task like high-end gaming video editing machine learning 3D modeling except.
So buying an i7 powered laptop becomes more important for developing gaming apps, for 3D rendering, or even handling creatives on Adobe premiere pro.
Different i7 Processor Versions
If you are wondering which is the right i7 version for your needs, here are some of the different generations of CPU with different processes.
The "U" series processor is ideal for low power consumption and with the battery last long.
The "Y" series also consumes extremely minimal power and provides you long-lasting battery
The "k" series processor signify unlock chipsets and supports overclocking
The "H" series is optimized for mobile computing and high-performance mode
The "G" series comes with built-in discrete graphics on the package
This proves that if you want performance, productivity, and power at an affordable price into one CPU, nothing beats the efficacy of Intel i7 power.
Here are some of the important factors of the Intel i7 quad-core processor.
First, you have to decide if you need a Dual-core or Quad-core. It is recommended to always go for a Quad-core for gamers and people dealing with heavy tasks, and the Dual-core is suitable for businessmen and students.
The primary advantage of quad-core over dual-core processors is its performance. The more the number of cores, the better is the performance. I7 processors have hyperthreading, which creates many virtual cores, which means more cores are used to run more programs at a time.
Another factor that you should consider is CPU cache. It is important as it will make your PC run faster while multitasking, and you can work on different applications simultaneously without any hiccups.
7 Best Laptops with Quad-core i7 processor and 16 GB RAM
Quad Core i7 Laptop with 16gb Ram Reviews
Dell XPS 13 7390
Dell XPS comes with a 13.3 inches infinityedge display with around 8-% screen-to-body ratio. The screen is anti-reflective with superior 400-nit brightness that lets you enjoy the videos and images even outdoors. It comes with the IPS panel that offers a wider viewing angle that won't let you miss a thing!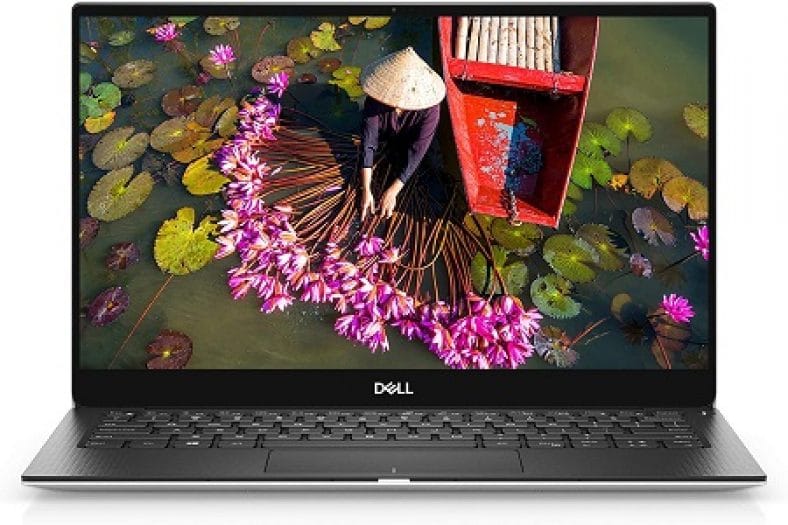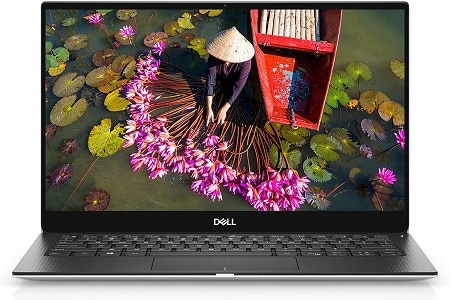 With Dell XPS, you can enjoy a cinematic experience with brilliant sound quality and ultra-vivid pictures. The epic cinema sound provides deeper bass and 3D sound with waves Maxx audio pro.
The webcam is innovatively located on the top of the display for the next-generation experience. With its 10th generation intel core i7-10710U processor, dell XPS is a powerhouse of the performance as more cores mean more excellent performance.
The 1TB M.2 PCIe NVMe SSD reboots and resumes your laptop within seconds. With its 16GB RAM, you can multitask with ease, even on intense applications. It comes with an endless 4K Ultra HD InfinityEdge touch screen display.
This laptop is cut from single block aluminum, which is more durable than pieced devices. This laptop is an energy star approved.
PROS:
Excellent and vibrant display
3D sound
Robust Built quality
Touch screen
Last update was on: September 15, 2021 11:34 am
back to menu ↑
Lenovo ThinkPad P53s Laptop
Lenovo ThinkPad P53s offers professionals a perfect productivity tool, including powerful performance, robust yet lightweight body, stunning display, incredible audio, and all-day battery life.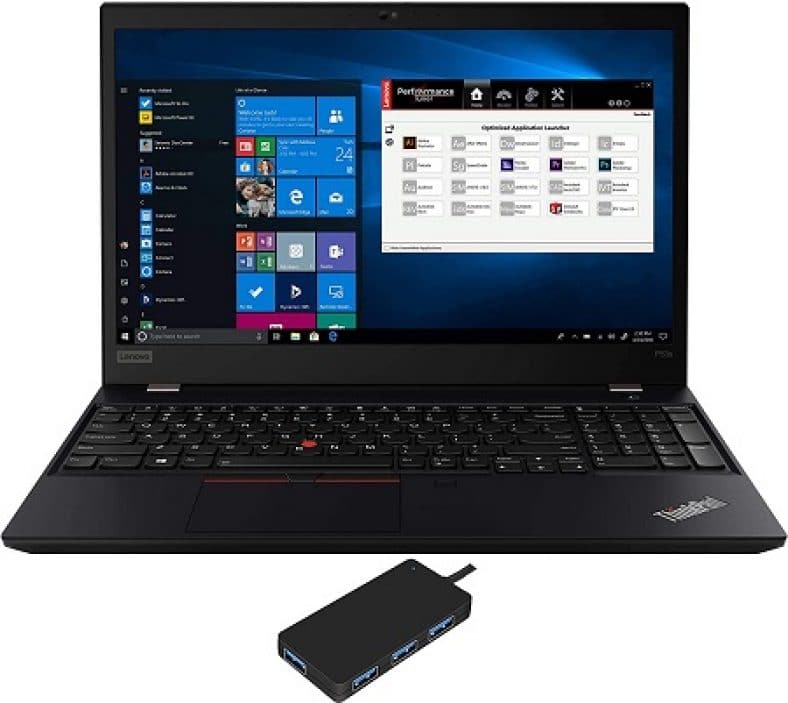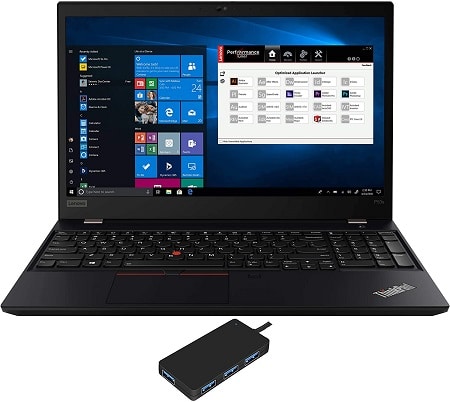 It is ISV certified from vendors that ensure good compatibility with professional software. It has built-in security and privacy features like ThinkShutter, dTPM, and biometric login that offer solid protection to your critical data.
This laptop delivers the power and performance you need with the 8th gen Intel quad-core processor and NVIDIA Quadro professional graphics. It ensures no lag with memory up to 48GB and 2TB SSD.
The 15.6″ Full HD display offers stunning views. Its speakers deliver premium sound with Dolby Audio that improves your entertainment with rich, powerful sound.
It also dynamically adjusts the audio to deliver home theater quality in a virtual surround-sound experience for all your entertainment needs. Boosted bass and enhanced volume turn it up for sound that's loud and clear enough to share.
Its battery runs up to 14 hours so that you can accompany it with you anywhere. It is tested against 12 military-grade requirements and more than two-hundred quality checks that ensure smooth running even in extreme conditions
It comes with various connectivity options like USB-c power input, thunderbolt port 3, smart card reader, 2 x USB A 3.1 gen 1, HDMI, Headphone jack, docking connector, RJ45 Ethernet, etc
PROS:
Incredible Audio
Excellent battery life
Excellent security
Lightweight
Various connectivity options
Last update was on: September 15, 2021 11:34 am
back to menu ↑
HP Envy Laptop
HP Envy 17.3 inch laptop is a powerful laptop that provides amazing performance every time. It is suitable for business professionals who require a reliable performing laptop or a content creator who requires premium screen resolution and a potent processor and even a student looking for an all-around laptop.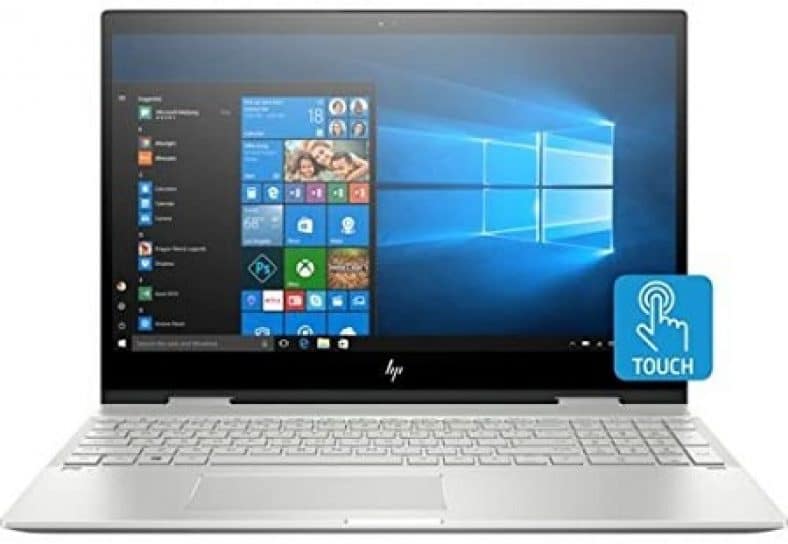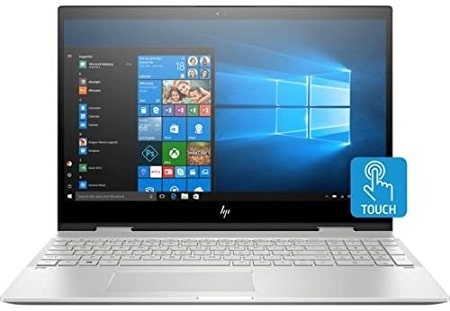 This 10th generation laptop delivers power without compromise. It is engineered to provide entertainment with style. Its Intel Core i7-10510U 4-core processor with a clock speed of up to 4.9 GHz and 8 MB cache makes it a powerful laptop.
The NVIDIA GeForce MX250) 16GB DDR4 RAM and 1TB SSD make it ideal for smooth performance even while carrying out some heavy tasks. Its 17.3 inches 3-way micro-edge FHS WLED UWVA crystal clear display with 1920 x 1080p resolution makes it irresistible. It is a touchscreen laptop with a gorilla glass screen. Its premium aluminum body is durable, and experts test the speakers at Bang and Olufsen.
Full-size island-style backlit keyboard with numeric keypad and lifted hinge provides a comfortable typing experience.
PROS:
Provides Amazing performance
Backlit keyboard
Great sound quality
Crystal clear display
Last update was on: September 15, 2021 11:34 am
back to menu ↑
Samsung Notebook 9 Pro 2-in-1 Touch Screen Laptop
Samsung Notebook 9 Pro features a brilliant full HD 15-inch display with 1080 resolution. It is a 2 in 1 laptop with a touch screen for hands-on control with a 360-degree flip and fold rotating display.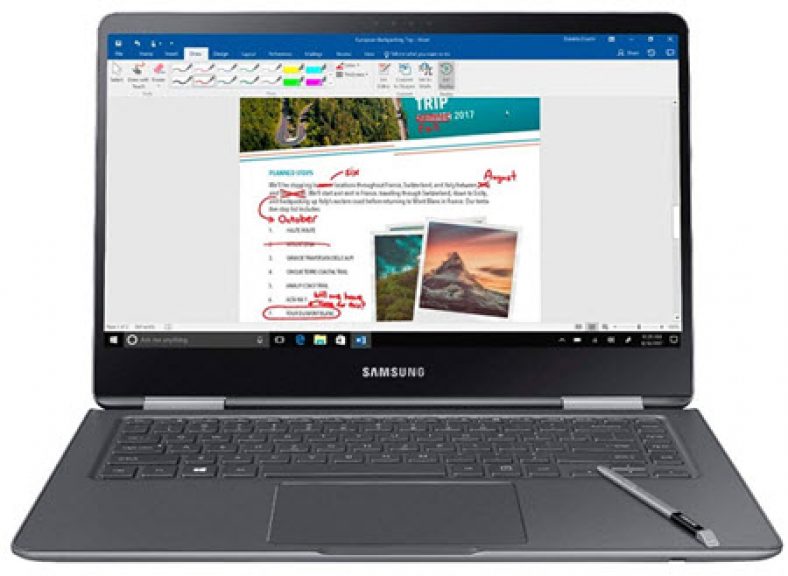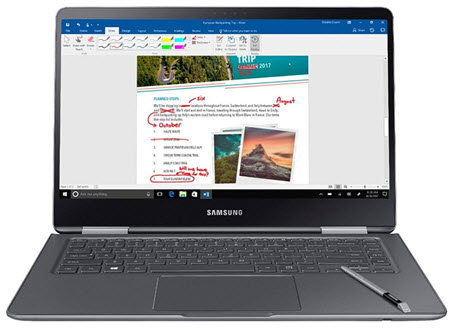 It is extremely simple to switch from type to touch with a 360-degree touch screen design. You can use it in Notebook mode or rotate it all the way around to use it on tablet mode.
It features an 8th generation ultra-fast Intel quad-core i7 processor with a base clock speed of 1.8 GHz and which can be turbo boosted up to 4.00 GHz.
When it comes to storage, it provides a storage capacity of 256 GB SSD along with 16GB ddr4 RAM and AMD Radeon 540 graphics card with 2GB additional dedicated memory to render high-quality images and videos. It runs on Windows 10 Home operating system.
It comes with a built-in S Pen, an engineer specially for people who like going to places. You can work more intuitively with this pressure-responsive precise as a pen, which never needs charging. It is always pad with the laptop and is ready to navigate work and create from anywhere.
This laptop from Samsung also comes with a media reader, making it simple to transfer photos from a memory card. It features built-in stereo speakers along with 720 p HD webcam to make your professional life easy.
The backlit keyboard, along with an intuitive touchpad, makes sticking to this laptop more desirable.
This laptop weighs only 3.79 kgs, making it extremely portable, and it has 4 lithium-ion battery cells, which gives up to 12.5 hours of battery life.
PROS:
Gorgeous screen with excellent trackpad and keyboard
Excellent battery life
Perfect Pen
CONS:
Speakers could be better
Overheating issue
Last update was on: September 15, 2021 11:34 am
back to menu ↑
HP Pavilion Touchscreen Laptop
HP Pavilion 15 is one of the most affordable laptops with excellent processor and RAM. This Pavilion laptop is all about the portability, stylish looks along with professional productivity.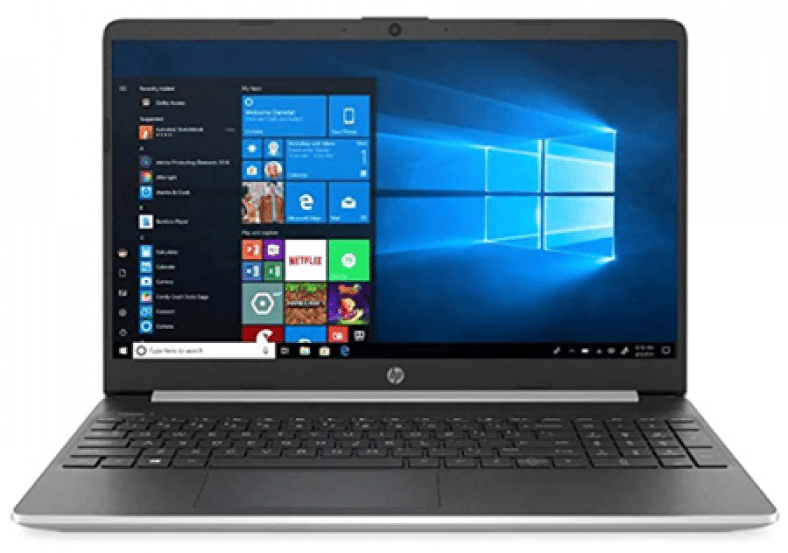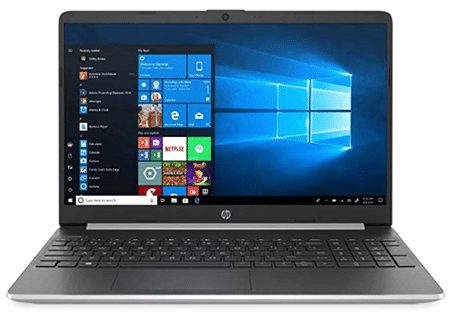 The 10th generation Intel Core i7-1065G7 and a quad-core processor with a clocking speed of up to 3.9GHz, can easily handle all the heavy tasks.
HP features 16GB RAM that helps the CPU process huge data files with ease and multitasking without any lags. It comes with a standard 512GB NVMe SSD unit and runs on Windows 10 Pro OS.
The 15.6-inch Full HD screen with a display resolution of 1920 x 1080 pixels and the BrightView panel followed by the micro-edge bezels makes it commendable.
It also features a screen-to-chassis ratio of almost 81%, which enhances visual clarity. This laptop weighs only 4.23 lbs and comes with 10 hours battery backup with built-in fast-charging capability. HP features USB Type-C and many other functional slots.
PROS:
Excellent processor
Vibrant display and stellar aesthetics
Good battery backup
Loudspeakers
Affordable price
$

609.00

$

1,036.00
in stock
Last update was on: September 15, 2021 11:34 am
back to menu ↑
Asus ZenBook 15 Ultra-Slim Laptop
The Asus ZenBook 15 is one of the most innovative laptops on our list with class-leading ScreenPad 2.0. With the Intel Quad Core i7-8565U processor at the helm, this laptop can do any demanding tasks with ease. The quad-core can be turbo boosted up to 4.6GHz.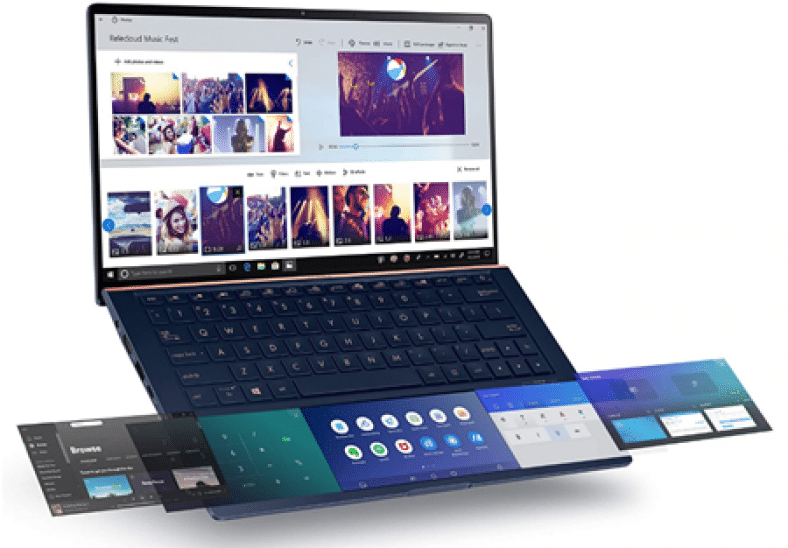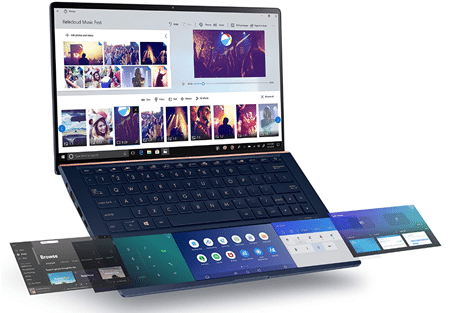 This Asus Zenbook features the NVIDIA GeForce GTX 1650 GPU, along with 4GB Video RAM for handling all the creative-requirements and demanding graphics without any hiccup.
The 16GB RAM further supports the processor and offers seamless multitasking. It features a 1TB SSD that takes care of all your storage needs. It runs on Windows 10 Pro OS.
The 15.6-inch wide-view display with NanoEdge bezel layout resolution of 1920 x 1080 pixels provides clear images and wide viewing angles. The backlit keyboard and innovative Touch-based ScreenPad 2.0 makes this laptop stand out from the crowd.
The 5.65-inch panel comes with features like an app navigator, a responsive handwriting reader, the Slide Xpert for professional activities. The high-end speakers and an IR facial scanning powerful webcam with Windows Hello compatibility make it ideal for all the professional activities.
This laptop weighs just 3.7 pounds, making it ideal for carrying along anywhere. The laptop features connectivity options like HDMI, Ethernet, USB Type-C, wi-fi 5, etc. The 71Wh battery offers a steady 15-hour backup, on moderate usage.
PROS:
Exceptional typing experience with ErgoLift Hinge
Features cooling technology
ScreenPad 2.0 and highly intuitive touchpad
Powerful battery
Vibrant display
$

1,299.00

$

1,399.99
in stock
Last update was on: September 15, 2021 11:34 am
back to menu ↑
HP Spectre x360 Laptop
HP Spectre x360 runs on Windows 10 OS with features like Edge Web browser that lets you markup Web pages. It features an AMOLED backlight 13.3 inches multi touch screen with a native resolution of 3840 x 2160p.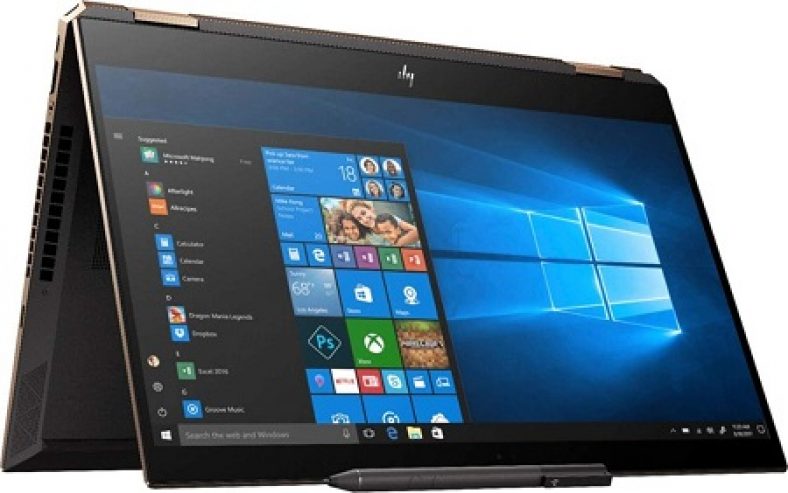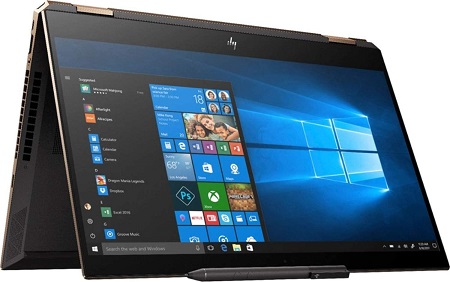 Its powerful 10th Gen Intel Quad-core i7-1065G7 mobile processor gives eight-way processing performance and long battery life, excellent responsiveness, quick reboot, etc. You can also connect to a wi-fi router to experience Gigabit 3x faster wi-fi speed than standard wi-fi 5.
With 16GB memory with high-bandwidth, you can perform intense multitasking and gaming without any hiccups. The intel Optane H10 with 1TB SSD offers more storage capacity with a quick opening of frequent programs.
This laptop has a 360 degrees flip and fold design along with Intel Iris Plus graphics, which makes it a very user-friendly device. It features an RGB backlit keyboard with an in-built fingerprint reader for comfort. It weighs only 2.87 lbs and is just 0.7 inches thin.
PROS:
Two super-fast Thunderbolts 3 ports
2-in-1 convertible laptop
Gorilla Glass provides additional screen durability
Stylus and Pen for versatile function
Good battery life
Last update was on: September 15, 2021 11:34 am
back to menu ↑
Frequently Asked Questions
What are the different Intel Core i7 processor series, and which one to opt for?
Various dedicated i7 Processors can be differentiated according to different series of characteristics.
You can opt for Intel i7 processor H-series of you prefer decent graphic performance
You can go for the G1-G7 series processor if you want a smooth gadget with an integrated GPU.
Intel i7 U-series is ideal for low power consumption.
The Intel i7 X-series are ideal for gamers as well as workstations.
The Intel i7 Y-series are suitable for ultrabooks and tablets as it consumes very low-power.
Which i7 laptops have an excellent battery life?
Laptops that come with Integrated Graphics provide the best battery backup. The VRAM and GPU complex the graphics that affect battery power. The integrated GPUs like Iris Plus or Intel UHD 620 have lower Thermal Design Power that helps keep the draining of battery to a minimum. You can also opt for U-series i7 processors or Y-series i7 Processors for good battery performance.
What are laptops with Intel Core i7 processors good for?
A laptop with the Intel Core i7 processor is ideal for people who are into high-end gaming, heavy multitasking, content creation, game development, data science, and media editing can consider laptops with Intel i7 processors.
Conclusion
A laptop is a versatile gadget. It can be used as TV for entertainment; it has replaced gaming consoles and even desktops. Laptop's convenient designs, high performance, and portability make it ideal for work and entertainment.
Along with high RAM and advanced processors, its connectivity, storage, compatibility, and features also play an important role in its performance and outputs.
The list mentioned above of the best laptops with i7 processors and 16GB RAM is suitable for people with various requirements and budgets. We hope this guide will help you find the best suitable Quad-core i7 processor with 16GB RAM for you.