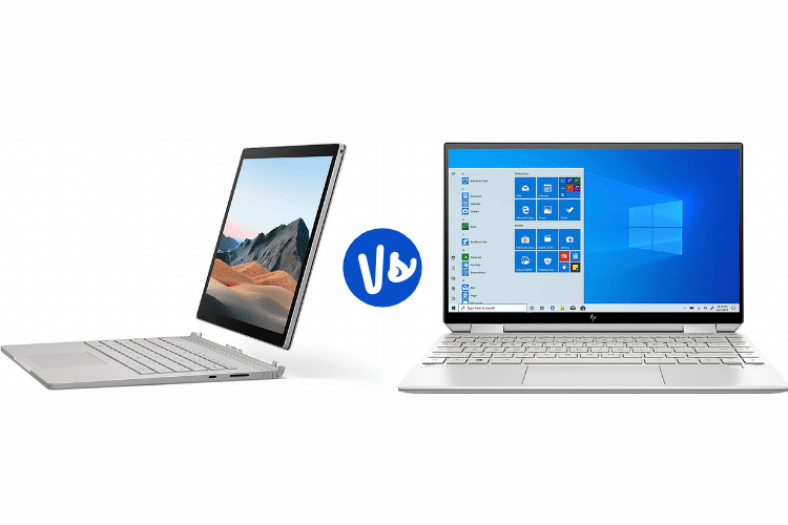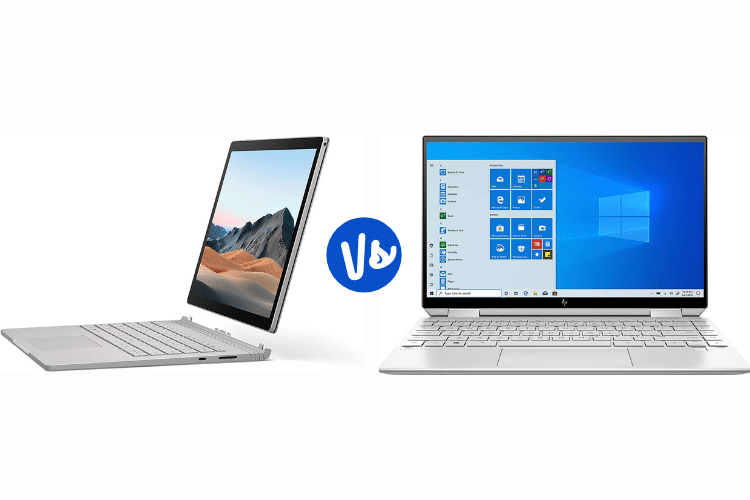 Which high-end convertible laptop is the best has always been a debate. If you are confused between which laptop to buy, you will find here a quick comparison between the HP spectre x360 and Microsoft surface book 3.
The comparison between these two laptops is based on Basic Information, Features, Quick Specs, Technical Specifications, etc.
There is no good or bad choice, when it comes to HP spectre x360 Vs surface book. Both the laptops are of the latest, greatest, and powerful technology, so it is a win-win situation whichever you choose. 
Both the laptops – Hp spectre x360 and Microsoft Surface Book 3 have stunning designs, excellent battery life, powerful hardware, provides good performance, etc. Both the laptops come with digital pen support making it suitable for artists and graphic designers.
Let's start with a comparison of features between HP Spectre x360 and Microsoft Surface Book 3
HP spectre x360 Vs Surface book – Features comparison
Design
The newly launched HP spectre x 360 13t comes with a cutting edge Gem Cut technology just like its previous model. The angular gem-cut edges make it stand out when compared to other premium and portable notebooks. To fit everything in such a compact screen, it comes with a thin border, which results in a 90% ratio of screen to body.
The HP Spectre x360's convertible hinge denotes an excellent canvas where you can draw with an included stylus. You can also use the convenient screen mode when you want to watch your favorite series or movies.
Surface Book 3 is the ultimate Windows-powered mobile device. It is a detachable 2-in-1 laptop that offers the best features, the flexibility of operation, and portability. It features an advanced locking system for the keyboard base, excellent battery life, multiple cameras, and powerful graphics processing.
The display and keyboard base comprises high-quality magnesium with platinum silver color finishing for a rich look. The keyboard and screen are joined with a hinge to make it work as a traditional clamshell laptop. The amazing feature is that you can release the keyboard with just a press of a button and use the Surface Book 3 as a tablet. You can also use it as a studio mode or inverted v tent for traditional convertible design.
With optional tools like a surface pen or surface dial, digital artists can use this flexible device to sketch, edit, or retouch.
Display
HP Spectre x360 13 features a 13.3 inches diagonal 4K UWVA Brightview display with micro-edge AMOLED multitouch Corning gorilla glass and 3840 x 2160 screen resolution. It has a display density of 331 PPI
Microsoft Surface Book 3 comes in two sizes – 13.5 inches and 15-inches. When compared to Spectre x360, the 13.3 inches screen surface book's 13.5 inches is larger. It features a PixelSense screen type and has a display density of only 201 PPI.
Processor
The Spectre x360 laptop features 10th Generation Quad-core Intel i7 processor, which has a base clock speed of 1.3GHz and can boost up to 3.9GHz and has an 8MB cache.
Microsoft Surface Book 3 also features the 10th Generation Quad-core Intel i7 processor. It also provides i5 processors with 10th Gen.
HP Spectre offers Windows 10 professional as well as Windows 10 Pro OS version, whereas surface book 3 offers Windows 10 Home OS version.
Connectivity
The HP Spectre x360 comes with one USB 3.1 Gen 1 Type-A port, Two USB 3.1 Gen 2 Type-C ports, two Thunderbolt 3, 1 Headphone/microphone jack, and an SD card reader.
The surface book 3's configuration features the same port selection. It comes with 1 USB Type-C port, 2 USB 3.1 Gen 2 Type-A ports, one 3.5MM headphone port, and one full-size SDXC card reader.
Keyboard
The Spectre x360 13's has a sturdy and comfortable full size backlit keyboard with well-placed keys. It comes with a dedicated Page Up and Page Down keys, Home, End key.
Surface Book 3 comes with a comfortable backlit key that feels satisfying to tap and is quiet while offering a good amount of travel without feeling mushy. The touchpad is responsive and has a very stable clicking mechanism.
Grahics
The 13.5 inches Microsoft Surface Book 3 with i5 processor comes with Intel Iris Plus Graphics, and the i7 processor comes with NVIDIA GeForce GTX 1650. The 15-inch Microsoft surface book comes with NVIDIA GeForce GTX 1660Ti.
The HP spectre x360 also comes with Iris Graphics plus a graphic card.
Battery
HP spectre x360 comes with a 60wh battery along with a power charger. Its battery life is incredible and works for around 13 hours if used for wireless streaming and surfing at 150nits
The Microsoft surface book 3 13.5 inches comes with a battery life of up to 15.5 hours, and the 15inches version comes with a battery life of 17.5 hours.
Let's take a quick look at the technical specifications.
Specs
Hp Spectre x360
Surface Book 3
Processor
8th Gen Intel Core i5-8265U

8th Gen Intel Core i7-8565U

10th Gen Intel Core i5-1035G4

10th Gen Intel Core i7-1065G7

10th Gen Intel Core i5-1035G7

10th Gen Intel Core i7-1065G7

GPU
Intel UHD Graphics 620

Intel Iris Plus Graphics

Intel Iris Plus
Storage
256GB PCIe SSD
512GB PCIe SSD
1TB PCIe SSD
2TB PCIe SSD
128GB PCIe SSD

256GB PCIe SSD

512GB PCIe SSD

1TB PCIe SSD

Ports
2x Thunderbolt 3

2x USB Type-C 3.1 Gen 2

1x USB 3.1 Type-A Gen 2

MicroSD

3.5mm audio

1x USB-C

1x USB-A

1x Surface Connect

3.5 mm headphone jack

Display
13.3-inch

1920 x 1080 w/ Sure View Privacy Screen (touch)
1920 x 1080 (touch)

4K UHD (3840 x 2160, touch)

13.5-inch Pixelsense

3:2 aspect ratio

2256×1504

Battery
Up to 11.5 hours
60W
Weight
From 2.9 lbs (1.32 kg)
Up to 2.79 lbs
Dimensions
12.16 x 8.58 x 0.57 inches (309 x 218 x 15 mm)
12.1 x 8.8 x 0.57 inches(308 x 223 x 14.5mm)
OS
Windows 10 Professional
Windows 10 Home
Keyboard
Full size island Keyboard
Detachable keyboard
Speaker
Bang & Olufsen
Dolby Audio-enhanced sound