Sometimes while cleaning our laptop or due to other particular reasons, some keys of the keyboard stop working. It is very frustrating if the keyboard is not functioning properly. What we do is we attach an external keyboard for the time being instead of repairing it. So, in that case, you might want to disable the built-in keyboard on the laptop.
Now the thing is not many of us know how to disable that. You do not need to worry at all here we have some simple methods for both MAC OS and Windows OS laptops that will guide you on how to disable laptop keyboard.
Disabling the MacBook Keyboard:
The way of disabling the keyboard for MacBook is different from that of laptops that have Windows OS. However, there is nothing to worry about; it is simple. Here we have different and easy methods with the help of which you can disable your keyboard on MacBook.
Method 1:
There is a very simple way by which you can quickly turn off the MacBook keyboard temporarily. All you have to do is just press "Ctrl +F1" key.
Method 2:
The other way of disabling the Mac OS keyboard is by using the apple script.
Sudokextunload/System/Library/Extensions/AppleUSBTopCase.kext/Contents/PlugIns/AppleUSBTCKeyboard.kext/
The above script will disable the keyboard. However, some users do not find it helping as it does not work for their systems.
Method 3:
You can also use some third party software like karabiner to disable the keyboard.
Firstly install Karabiner in your Mac OS.
Select the Disable button as shown in the screenshot below:
Check the corresponding box, and it is done.
Disabling the Windows Keyboard: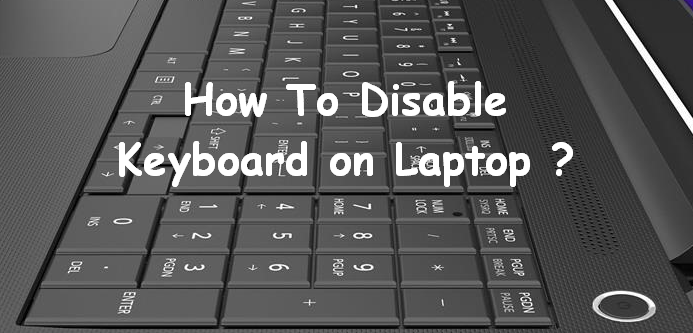 Disabling the Windows keyboard is not a primary issue. You do not have to be computer student to do this. It can be done easily by the Device manager. There are also some laptops which have a shortcut for disabling the keyboard, however, in most of the cases, you have to do it manually. Here are some easy steps that will help you.
Firstly press Windows key + R to open the Run.
Type 'gpedit.msc' and enter.
Then go to Local Group Policy Editor > Computer Configuration > Administrative Templates > System > Device Installation.
Click the sub-folder named Device Installation Restrictions on the left side of the window.
Open the file "Prevent Installation of Devices not described by other policy settings."
Set it "enable" and apply.
Now restart the laptop. The keyboard will be disabled.
This was one of the easiest and efficient methods for disabling the built-in keyboards. However, these steps will temporarily disable the keyboard. If you want to disable it permanently there are some methods for that as well.
If you want to remove the keyboard permanently, you can do it by uninstalling the keyboard driver. For that open Control Panel > Device Manager> Keyboard. Right click on keyboard and select uninstall. We hope that above methods on Windows and Mac would be helpful on how to disable laptop keyboard while working with mouse, track pad or external keyboard.