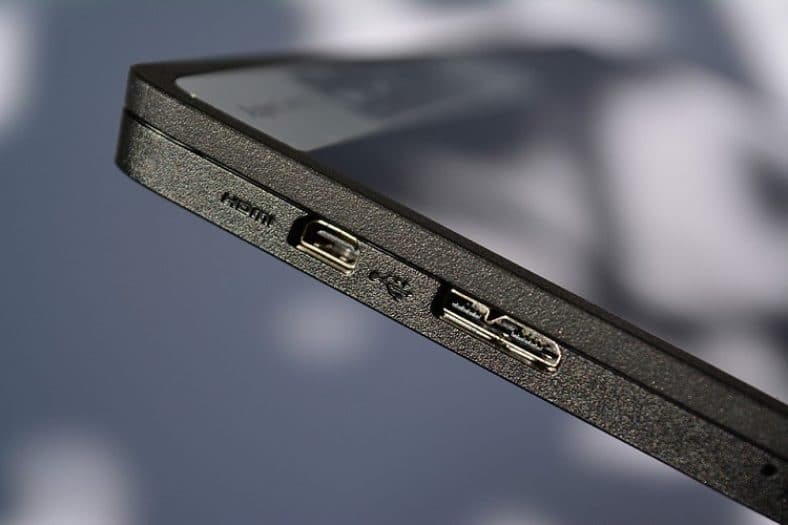 You can connect your Macbook Pro to an external display via High-Definition Multimedia Interface Cable AKA HDMI cable. With the help of an HDMI port, you can connect the HDMI cable on your Macbook to a television or secondary monitor.
HDMI is a brand name for a digital interface and is a trademark used to transfer the video and audio data via a single cable.
You can use this second screen to get your work done faster or connect the audio and video display on your Television easily with HDMI to get a fantastic experience.
If you are facing issues in connecting the HDMI with another device, do not worry about it. We are here to help you.
You might get issues like a black screen even after connecting and switching on the monitor. You might get a 'No Signal' error instead of just a black screen or in some cases, the external display might blink randomly when connected to the Macbook.
All these display problems cause a lot of annoyance and inconvenience while doing the work. This guide will show you what to do if the HDMI port is not isn't on a MacBook pro.
MacBook Pro comes with an HDMI 1.4b port and supports –
Most Macbooks support at least 1080p video over HDMI, and few high-end models also support higher resolutions when connected to 4K, 5K, or ultra HD display TVs.
It supports 24-bit/8 channel audio at 192 kHz, Dolby surrounds sound 5.1 as well as traditional stereo.
It supports HDCP-encrypted playback from QuickTime Player (version 10) and iTunes.
It also supports Safari in macOS Sierra or later, if the web page is HTML5-enabled.
If you are using an external adapter, refer to its specifications to learn more about its resolution support and other details.
Also, Check – Why is My Laptop So Slow? 8 Ways to Fix It
Things to Do if HDMI Port isn't Working on MacBook Pro
Check if everything is connected properly
If the HDMI connection is not working, and don't recognize the HDTV, display, or other HDMI device ensure that your apple MacBook is correctly connected to the HDMI device.
Besides, you can try –
Turning off the HDMI device while the MacBook is connected.
Disconnecting the HDMI cable from the MacBook.
Wait for a few seconds and again connect the HDMI cable to the MacBook.
Now, turn on the HDMI device back.
This is the most simple method, but it is a handy workaround, so try it out.
Check the HDMI cable
If your HDMI display is not at all working on the Macbook, chances are that there is some issue with the cable itself.
All Apple products work best with Apple Certified cables, If the HDMI cable is not certified, it is wise to replace it.
It would be best if you considered buying an Apple HDMI cable.
Restart your MacBook
Many times due to a small glitch on your system prevents the MacBook from working correctly. A simple way to fix this glitch is to restart your computer and see if that helps.
Factory reset or re-lable your TV
This issue usually appears on Samsung TVs, however, most of the time, you can fix it by relabeling the input used by your PC.
You can even try resetting your Television to the factory settings.
Check the video display option on your Macbook
If the video on your display or TV goes beyond the screen's borders, open the display's preferences – adjust the slider to a better fit.
You can use the following ways to open displays preference –
Choose the Apple menu, go to system preferences, and then click Displays.
Open the Applications folder press Shift+Command+A, Double-click on system Preferences, and then click on the Displays.
If your macbook keyboard comes with a brightness control key, press Option + Brightness Up or press Option + Brightness Down.
Check the Audio option on your MacBook –
If your device fails to receive audio from your Macbook pro –
You can choose the Apple menu, click on System Preferences, and then click Sound. Ensure that your HDMI display or tv is selected in the Output pane.
If you're using a Mini DisplayPort adapter for connecting your HDMI device, ensure that your Macbook is allowed to send and receive audio over the Mini DisplayPort.
Unplug all the audio devices that are plugged into your MacBook's Audio-Out port, if you will connect from a mac mini.
You might face an HDCP error if your Mac sleeps while a video is playing. In that case, quit the app used for playing the video and then open it again.
If you still face the same issue, choose the apple menu, go to system preferences, and click the energy saver. Now, adjust the settings so your display doesn't get turned off.
These are some quick and simple solutions that can help you if your HDMI is not working with your MacBook.
If the HDMI connection is still not working on your MacBook Pro, you can fix it by checking the cables or by using the Detect Displays option on your apple MacBook.
Check Out – How to Charge Laptop with HDMI, is it Possible?
FAQs about HDMI Port
Can you use the HDMI port on a MacBook Pro as an input?
You can not just plug-in the HDMI source and use the MacBook Pro as your monitor screen. However, if you own a MacBook pro, you can receive input from other devices using an HDMI cable.
What is the HDMI port on MacBook Pro for?
Macbooks use an HDMI adapter or cable to connect to a display, HDTV, or other HDMI devices. Macbooks that comes with any of the following ports can connect to the HDMI devices –
HDMI port – It connects to the HDMI directly using an HDMI cable.
Thunderbolt 3 or USB-C port – It uses an adapter to connect to the HDMI. (Example of USB-C port is Apple USB-C digital AV Multiport adapter)
Mini Displayport – It uses a third party mini display port to HDMI cable or adapter to connect to the HDMI.
How do I display HDMI on my MacBook Pro?
To connect the Macbook pro to your TV or display using the Thunderbolt or USB type-C port:
Get the Thunderbolt adapter.
Plug it into your Macbook pro.
Connect HDMI cable to your Televisions HDMI port.
Connect the other end of the cable to the Thunderbolt adapter.
Follow these steps to set your Television as an audio source.
Can you connect a monitor to a MacBook Pro?
MacBooks can connect to other brands' monitors. You need an additional step. You will need an adaptor or cable that allows a connection between the Thunderbolt ports or mini display ports on the MacBook and your monitor.
You will need one cable/adapter per monitor.
Bottomline
Whether you are a professional web designer/programmer or looking to improve productivity while working, using dual displays is an excellent way to add screen space to your workstation.
You might face a few issues while creating your ideal dual monitor setup. A few easy steps can help you easily connect your MacBook to external devices like display, TV, or HDTV via an HDMI cable.
This guide has a step by step solution if your HDMI connection is not working on your Macbook pro.