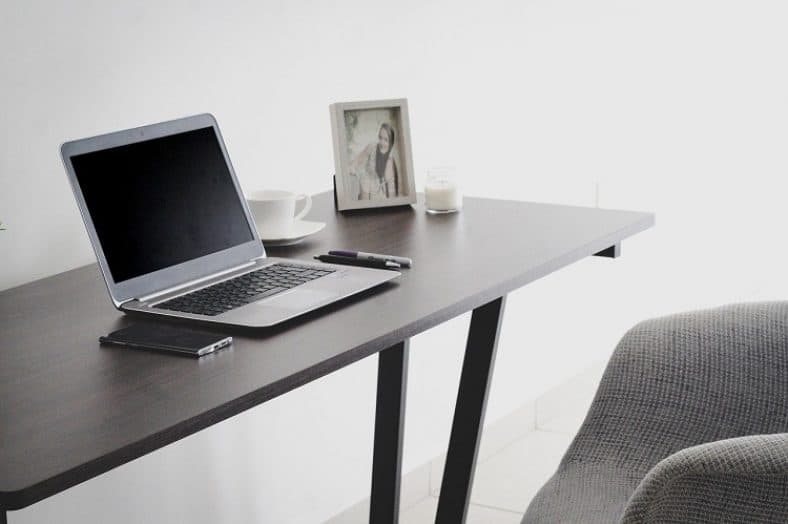 Working from home is not possible without a decent laptop by your side. If you are looking to buy a laptop or if you wish to upgrade your current one, there can be no better time to do it with Black Friday and Cyber Monday looming around the corner.
You can take advantage of a lot of deals and price drops in this period. An expensive laptop you may have wanted might fall into your budget.
Our article covers some of the best laptops to keep an eye out for. You will find a laptop here to cover every need, from writing and making presentations to modelling and animating.
How to Choose a Best Laptop to Work from Home?
Before you set out to buy a laptop, here are some features to consider and how they affect your choice.
Processor
This is, quite literally, the "brain" of a computer. A better processor means faster response time. Intel's line of Core i3, Core i5 and Core i7 processors is quite popular.
You should take care to buy according to your need and not go overboard. For example, if your primary work is writing, a lower-end processor like Core i3 will do just fine. AMD's Ryzen series of processors offer a cheaper alternative.
RAM
Without getting into the jargon, this determines how well your computer can multitask.
8 GB RAM is standard these days and can handle most daily tasks well. However, specific high-end applications might require 12 GB or even 16 GB of RAM to run efficiently.
Storage
There are two types of storage available; SSD and HDD. HDD is the standard storage that has been used for years.
SSD is a new technology that speeds up boot times and loading times. This makes it quite expensive. A good option is to go for hybrid storage: a small SSD storage for your operating system, so the computer starts up quicker; and a larger HDD storage to store your other files that do not have a loading time, like videos and photos.
Resolution
This determines the clarity of your screen. If your work is largely dependent on mainly, a full HD screen (1080p) is necessary. It also enhances your entertainment experience.
If you use your laptop just for basic browsing and writing, 1366×768 resolution will do just fine.
Graphics Card (GPU)
This is an optional feature, but most processors come with an integrated GPU. However, many demanding applications like Photoshop and Solidworks require dedicated GPUs to run. In that case, NVidia's GeForce series or AMD's Radeon series will serve your needs.
Portability
There is a space restriction when working at home, so the laptop should be compact, light and easy to carry around
Best Work from Home Laptops in 2020
Acer Aspire 5 Slim Laptop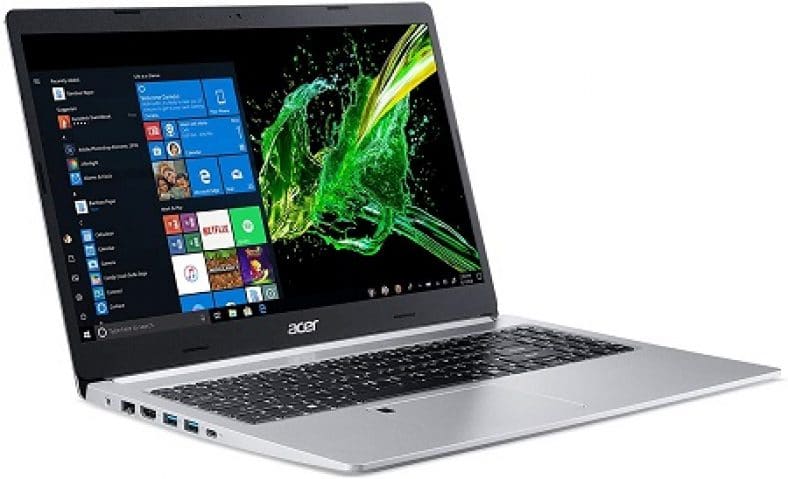 Aspire 5 is a budget laptop from Acer with a compact design that packs a lot of power under the hood. It has an AMD Ryzen 3 dual-core processor that has a clock speed of up to 3.5 GHz. It is designed for superior performance and quick start-ups with the 128GB SSD and 4 GB memory.
The 15.6" screen has a backlit IPS display with a Full HD resolution of 1920 x 1080 that gives sharp and crisp visuals. The narrow bezels allow more screen space for true-to-life colors with Acer Color Intelligence.
It has an innovative speaker design that brings deep bass and more volume. It has a convenient backlit keyboard allowing you to work in low light conditions. It has extensive connectivity options with its various ports that help you accomplish your tasks.
With 7.5-hour battery life and 3.97 lbs weight, you can travel with ease. The light design and aluminum top cover give it a premium look and extra mobility.
The laptop comes with the Alexa digital assistant that makes your job easier and helps you work efficiently. You can securely surf the internet with Microsoft Edge that has advanced security features.
back to menu ↑
Asus F512JA-AS34 VivoBook 15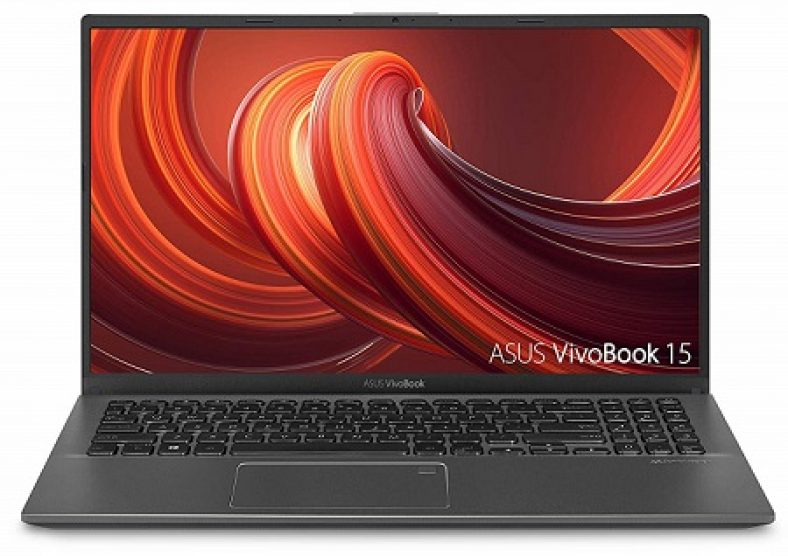 Vivobook 15 has a lightweight chassis design that will not weigh you down if you need to work on the go.
It has travel-friendly dimensions and fits easily in your bag. The latest 10th generation Intel i3 processor makes it a perfect choice for writers and light work.
The precision-engineered keyboard hinge has a silky smooth dual action that securely holds the display at any angle. When opened, it adds a 2-degree tilt to your keyboard that gives you an optimized typing position.
The keys have an ergonomic design with a comfortable distance of 1.4 mm. The keyboard is fully backlit so that you can work even in low light conditions.
The high-quality lithium-polymer battery keeps the laptop going all day long and charges quickly up to 60% in just 49 minutes.
The frameless NanoEdge display and ultra-slim bezels offer more screen space with an 88% screen-to-body ratio. The screen size is 15.6" and has a full HD resolution of 1920×1080. Asus SonicMaster technology delivers powerful audio and deep bass.
The laptop is equipped with a wide range of ports so you can connect most of your peripherals and projects without trouble.
It boasts of a built-in fingerprint sensor on the touchpad. It saves you a lot of time as you can log in to your device with just a single touch.
back to menu ↑
Google Pixelbook Go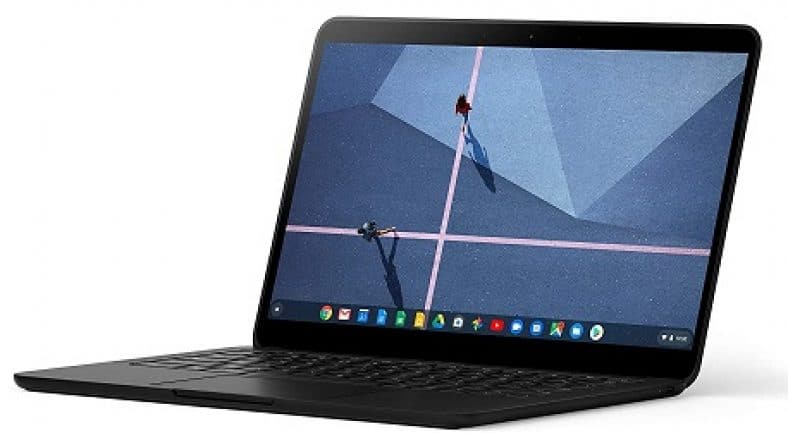 Pixelbook is specially designed for ease of use. It is incredibly lightweight at just 2 pounds and has a thickness of 13 mm, occupying minimal space.
With a battery life of up to 12 hours, you are not restricted to a place with an electrical socket. You can stay unplugged and work wherever you are comfortable. When the battery is low, a 20-minute charge can give you 2 hours of usage time.
The laptop is built for speed with its 8th gen Intel processor that is quick and responsive. It starts up in seconds so you can begin working immediately. It has a backlit keyboard, a spacious touchpad and quiet keys that only need a feather touch.
It has a built-in Titan C security chip and virus protection that keeps your data safe. The Chrome OS updates automatically, so the laptop always has the latest security features.
The HD screen delivers impressive picture quality, coupled with dual stereo speakers that provide a good entertainment experience. The touch screen feature allows you to browse and navigate conveniently.
back to menu ↑
Microsoft Surface Laptop 3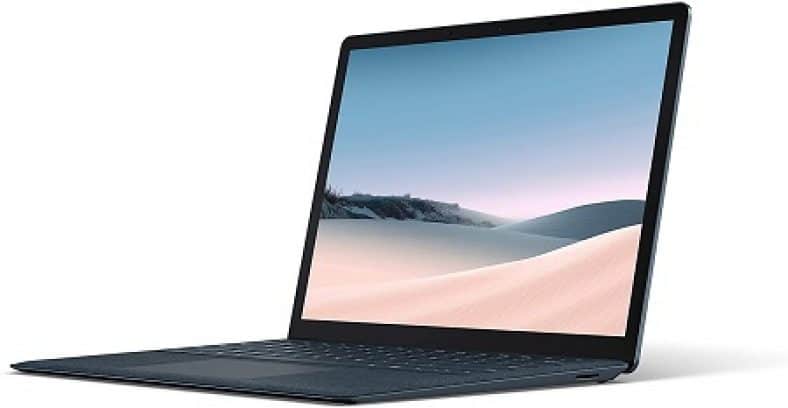 This is a high-end laptop from Microsoft that has a clean and elegant design. It is thin, light and built for professional use. It offers improved speed and performance with the latest 10th generation processor from Intel.
The laptop provides multiple options for connectivity with its USB-C and USB-A ports. It can connect displays, docking stations and also double up as an accessory charging port.
It has 11.5 hours of battery life to get you through the day and an improved standby time when you are not using the laptop. The 256 GB SSD storage and 8 GB RAM ensures that the laptop boots up instantly.
It fuels your creativity and reflects your style with its sleek, rich and polished colors. It has a vibrant 13.5" touchscreen for seamless navigation. The keyboard is highly finished for more comfortable typing.
You can get started right away with the familiar Windows operating system. It is easy to log in with your voice using Windows Hello, so you do not have to type in your password. Microsoft Edge gives you a fast browsing experience, while the integrated OneDrive cloud storage keeps your data safe.
back to menu ↑
HP Envy Thin Laptop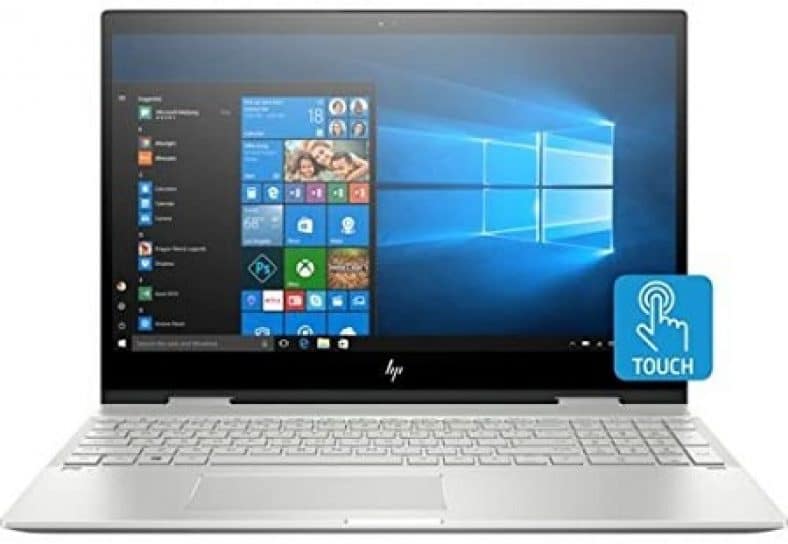 HP Envy is aptly named as it has a distinctive design with a high-quality metal case. The laptop is durable and built to last with premium design features. It has state-of-the-art security features like a webcam kill switch and an integrated fingerprint reader.
The laptop is powered by the strongest processor offered by Intel, the Core i7 10th generation. It has a 1.8 GHz base frequency up to 4.9 GHz with Intel's turbo boost technology.
Combined with the 256 SSD storage, it provides quick response times, snappier experience and quick boot-up times. You will not have to wait long hours to transfer large files.
The laptop has a 13.3" full HD display with multi-touch functionality. The edge to edge, anti-reflection Corning Gorilla glass is indestructible and scratch-resistant. It has a wide viewing angle of up to 178 degrees.
The Bios recovery and protection feature keeps track of the health of your laptop and prevents unauthorized access.
The brilliant backlit keyboard is a key feature that enables you to work in dark conditions. The pulse-pounding quad speakers provide an engrossing audio experience.
It has a fast charge technology that charges the laptop up to 50% in just 45 minutes. This laptop is a rare combination of a powerhouse and compact design without being too bulky. It is ideal for users who run applications that require a decent amount of processing power.
back to menu ↑
Dell Inspiron 17 3793 Premium Laptop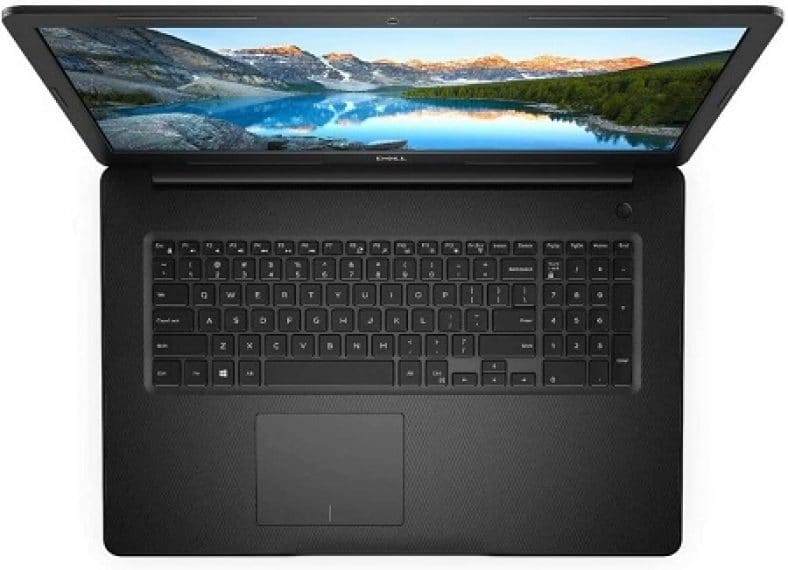 Dell Inspiron 17 is designed for better performance, fast access speed and quick multitasking. It has a 10th generation Intel Core i5 processor with a base clock speed of 1.0 GHz and turbo boost speed of up to 3.6 GHz.
The mighty 16 GB RAM makes sure that multitasking is a breeze on this computer.
It has a massive dual hybrid storage with 512 GB of SSD for quick boot-up times and 1 TB HDD storage for your media files. You will never have to worry about running out of storage space.
The huge 17.3" full HD screen has a resolution of 1920×1080. It has LED backlights and anti-glare property so you can work even in bright conditions. It also holds an integrated HD webcam with dual-array microphones.
This is a heavy-built laptop that is ideal for users who require a lot of storage space for big files along with a huge and clear screen to work without strain.
back to menu ↑
Lenovo Flex 14 Convertible Laptop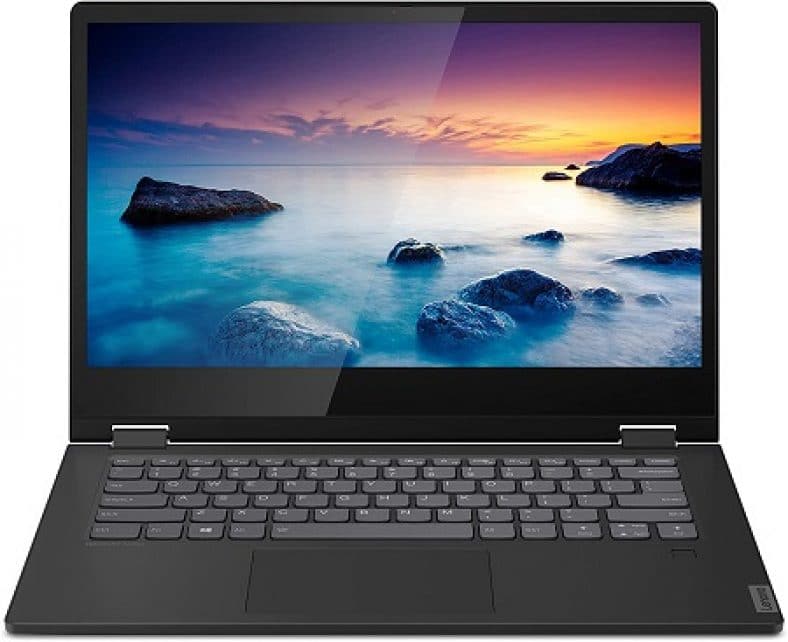 This laptop from Lenovo is built to boost your productivity and creativity while improving your entertainment experience. It is powered by the efficient AMD Ryzen 5 3500U mobile processor so that you can work, stream, play or edit for hours without any problems.
You can browse, connect and surf with responsive performance. The 12 GB RAM combined with 256 GB of SSD storage ensures that you can multitask efficiently and run demanding programs simultaneously.
It features a full HD 14" touchscreen display with a resolution of 1920 x 1080 that will deliver seamless performance and striking visuals, no matter what you are doing.
It has 8 hours of battery life with rapid charge technology to charge up to 80% in just one hour.
The laptop has comprehensive and built-in protection that keeps viruses, malware, and ransomware at bay. The privacy shutter allows you to physically close the webcam when not in use.
The touchscreen is best used with the included digital pen. This makes it a breeze to navigate, draw, create and take notes on the laptop. It is quite versatile and can be used in several modes as per convenience: tent mode for sharing, stand mode for binge-watching and tablet mode for intuitive interaction.
back to menu ↑
HP Chromebook X360 Laptop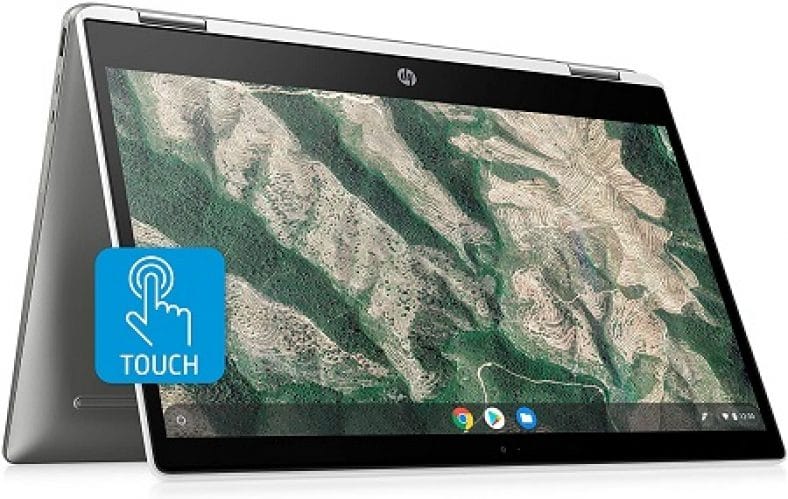 This is a fun-filled and action-packed Chromebook from HP packed with a variety of features for incredible performance. It has a 14 inch HD touchscreen with universal stylus support so that you can use your favorite stylus.
It has four versatile modes to use according to your requirement: laptop mode for typing, tablet mode for quick navigation, stand or tent mode to take notes, draw, or consume media.
The Chromebook has access to the Google Play Store, so you can use your favorite Android apps that run with speed, simplicity and security.
The Intel Celeron N4000 dual-core processor has a base frequency of 1.1 GHz with a boost frequency of up to 2.6 GHz.
The screen has a micro-edge backlit display with multi-touch functionality and a resolution of 1366×768. The dual speakers deliver rich and authentic sound.
The laptop is beautifully designed with a ceramic finish and a seamless metal keyboard. The 360-degree hinge is innovatively engineered and does not become loose after repeated usage.
back to menu ↑
MSI GL65 Leopard Gaming Laptop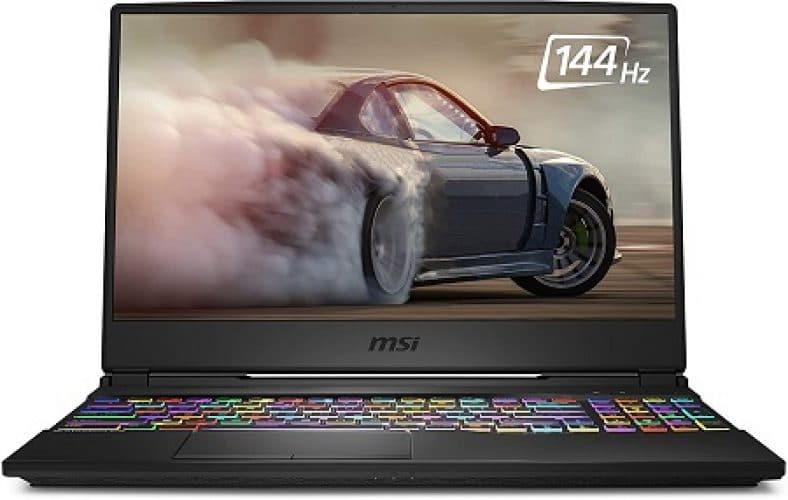 A gaming laptop does not mean it can be used just for playing. This laptop consists of powerful graphics and processors that are essential to run heavy-duty work applications.
Such laptops are ideal for people who use AutoCAD, Photoshop, Solidworks, rendering software and animation software. MSI offers one such laptop that will allow you to run these power-intensive applications.
This computer is powered by one of the fastest processors from Intel: the 10th generation Core i7. It has 6 cores with a higher single-core frequency than previous generations.
It boasts of NVIDIA GeForce RTX 2070 graphics card with 8 GB of VRAM that delivers lightning-fast rendering performance. Your models and 3D artwork will come to life with ray tracing that delivers accurate lighting, reflection and shadows.
It has high-resolution audio so you can immerse yourself in lossless music with premium sound quality. The keyboard is highly customizable with a per-key RGB lighting option.
The screen has a rapid fast refresh rate of 144 Hz, which feels unbelievably smooth. This is a huge advantage for professional animators as it allows them to construct and analyze each frame in great detail.
The laptop can run any power-hungry and demanding application. If you wish to play games in your free time, it will not disappoint. The laptop can handle most modern gaming titles and deliver a very high FPS for a smooth gaming experience.
back to menu ↑
Razer Blade 15 Base Gaming Laptop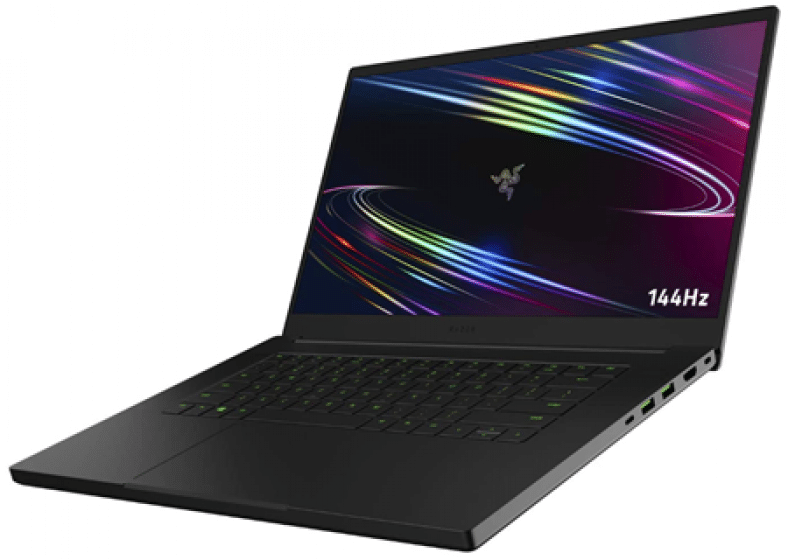 This is another gaming laptop that can run heavy-load applications that require incredible processing power and graphics cards. Razer Blade 15 contains the 10th generation Intel Core i7 processor that provides an ultimate performance level with a turbo clock speed of up to 5.0 GHz.
The NVIDIA GeForce RTX 2070 with Max-Q design is engineered with the NVIDIA Turing GPU architecture. It brings cinematic-quality rendering to visually demanding applications.
The 15.6" HD display has a resolution of 1920×1080 with a refresh rate of 144 Hz. It delivers ultra-smooth visuals, and the difference from a regular 60 Hz screen is instantly noticeable. This is extremely useful when using animation or video editing software.
It has a CNC aluminum unibody frame that is thin and compact. It is remarkably durable and just 0.78" thin. It offers various connectivity options with multiple ports for a complete desktop experience.
The 16 GB dual-channel RAM combined with 512 GB SSD storage makes it easy to multitask and run demanding applications concurrently.
This laptop is highly customizable, with the option to expand memory and storage as needed. The backlight of the keyboard can also be changed to your liking.
We hope this list of the best laptops for work from home helps you find yourself an ideal pick during the Black Friday and Cyber Monday deals.