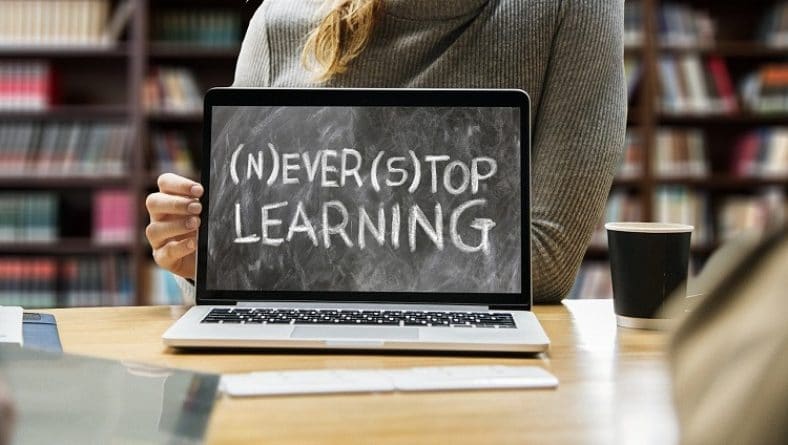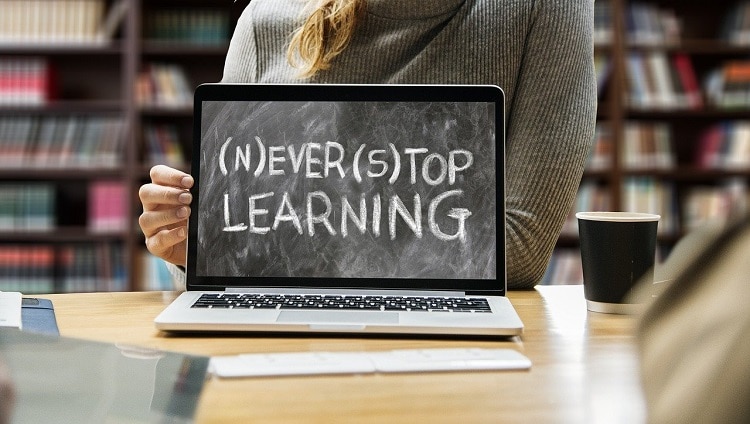 Universities and schools are gradually moving towards online modes of teaching and dispensing knowledge. This has made it imperative to own a good laptop computer to keep up with your studies. Apart from online lectures, it is essential to have a laptop for self-study and research purposes.
With Black Friday and Cyber Monday looming around the corner, there can be no better time to get hold of a laptop. You will come across many deals, price drops and even student discounts that you can take advantage of.
If buying a laptop is overwhelming for you, our article will help you make the process easier. Along with some laptops to keep an eye out for, we have listed some features and products that you should consider before making a purchase.
How to Choose the Best Laptop for Online Studies? [Buying Guide]
Before you set out to buy a laptop, here are some features to consider and how they affect your choice.
Processor
This is the most crucial part of any computer. A good processor ensures quick responsiveness and smooth interaction. Intel's line of Core i3, Core i5 and Core i7 processors are quite popular.
You should take care to buy according to your need and not go overboard. For most students, a lower-end processor like Core i3 will do just fine, as taking notes and watching videos does not take up a lot of processing power.
However, if you intend to do work other than studying, you should consider the higher-end versions. AMD's Ryzen series of processors offer a cheaper alternative as compared to Intel.
RAM
The amount of RAM in your computer determines how easily you can multitask. As a student, you might juggle a lot between internet browsers, documents, videos and notes.
For smooth multitasking between these apps, at least 8 GB of RAM is recommended, which is standard in the latest models of laptops.
Although if you need to run some heavy applications relevant to your field, 16 GB RAM will be suitable for you.
Storage
Studying online and taking notes does not take up a lot of space on your computer. So, for students, it is suggested to go for devices with lower storage capacity.
There are two types of storage available; SSD and HDD. SSD is a new technology that speeds up boot times and loading times. This makes it quite expensive.
You can go for a less 128 GB to 512 GB SSD storage. It is more than enough to suffice the needs of an average student. However, if you wish to store movies and photos, you can buy a laptop with an HDD.
Resolution
This determines the clarity of your screen. Full HD resolution (1920×1080) is the most common to find in laptops.
A screen with 1366×768 resolution will also be good for studying, as the difference is not much noticeable on documents and online lectures. If you wish to watch movies regularly or play games, you should go for the full HD screen.
Battery Life
Time is of the essence for most students. If you travel a lot and wish to study en-route your college or home, battery life is the most critical factor for you. It should have enough battery backup to last a few hours without charging.
Portability
If you plan on carrying around the laptop with you, it is necessary to make sure that the laptop has a slim design. It should easily fit in your bag and have less weight, so it does not strain your shoulders.
Graphics Card (GPU)
Most students will not require a graphic card to study online. However, several fields require the use of high-end software for animation, modeling, rendering and editing, for which a graphics card is a must.
NVidia's GeForce series and AMD's Radeon series have a whole line of graphic cards from which you can choose the best one to suit your needs.
Connectivity Ports
You will often find the need to transfer data to and from your mobile, external hard drive or flash drives. Before buying a laptop, you should check whether it has all the necessary ports compatible with your devices.
10 Best Laptops for Online Studies
ASUS VivoBook 15 F515 Laptop
This is one of the world's smallest 15" all-rounder laptops. It has the latest 10th generation Intel Core i3 processor that gets work done swiftly and efficiently. It comes with 128 GB SSD storage with 4 GB of RAM.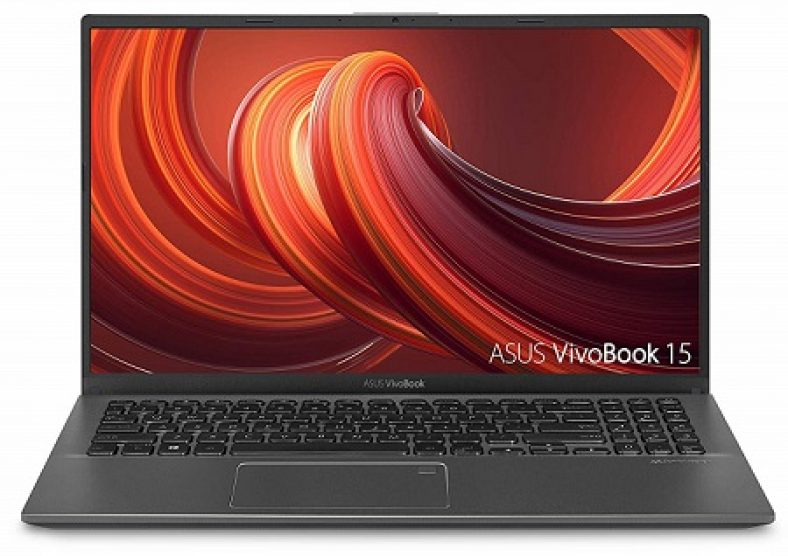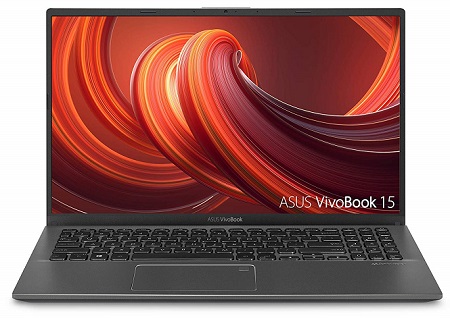 The 15.6" full HD display has NanoEdge bezels with a stunning 83% screen-to-body ratio. This vast screen area with a wide viewing angle of 178 degrees provides an immersive experience for study, work and play.
The laptop has a reinforced chassis with a metal support brace underneath the keyboard. It provides a strong and stable platform when typing or using the touchpad. This strengthens the hinge of the keyboard and also protects the internal components from physical damage.
It is very lightweight with an overall weight of just 3.97 lbs that can keep up with the fast-paced lifestyle. The in-built fingerprint sensor and Windows Hello allows you to log in securely with just a single touch. It saves you the time and effort required to type in a password.
The keyboard is ergonomically designed and has a sturdy, one-piece construction. It has a 1.4 mm key travel distance that offers a comfortable typing experience. It is fully backlit, making it easy to work in dim light conditions.
The laptop is equipped with a variety of ports to keep you always connected to your other devices. MyASUS gives you access to a wide range of apps to help you get the best out of your laptop.
Last update was on: October 23, 2021 1:18 am
back to menu ↑
Acer Swift 3 Laptop
This laptop is the perfect choice for those who like to study on the go. It has a sleek aluminum & magnesium-aluminum metal chassis that weighs just 2.65 pounds. It is just 0.63 inches thin, making it ultra-portable.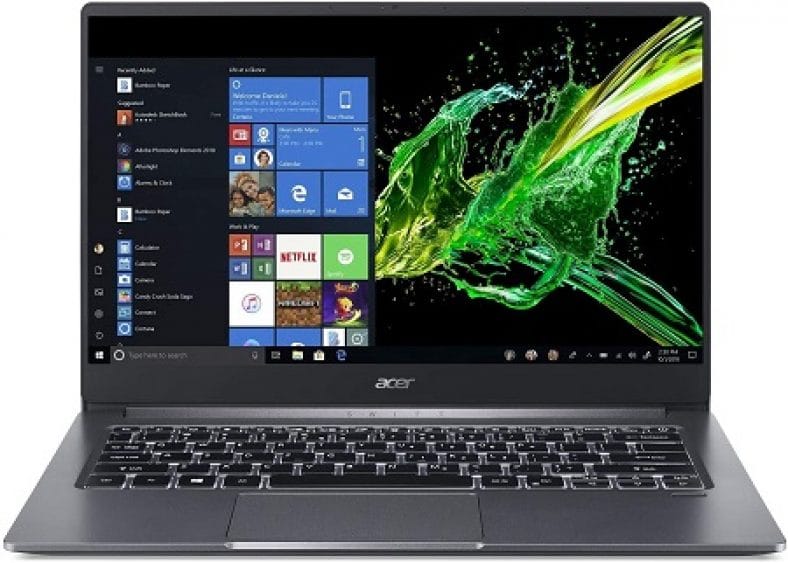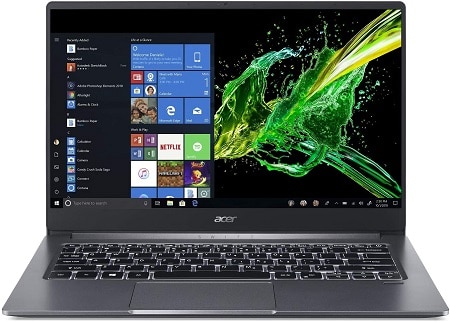 It features an AMD Ryzen 7 4700U Octa-Core mobile processor with a clock speed of up to 4.1 GHz. It is very responsive and accelerates everything you do: work, study, content creation or gaming. It also has integrated Radeon graphics with 8 GB RAM and 512 GB SSD storage.
The 14" full HD IPS display delivers eye-popping visuals with narrow 0.21" bezels and an 82.73% screen-to-body ratio. It provides a memorable multimedia experience. The backlit keyboard is useful for typing in dim conditions.
The laptop has a long-lasting battery that gives you a full day of power for work and entertainment. With 11.5 hours of battery life, you do not need to be worried about plugging in your laptop frequently.
You can verify your identity and log in securely via the embedded fingerprint reader and Windows Hello. The dual in-built microphones ensure crystal clear communication by filtering out the unnecessary noise. The HD webcam has a high dynamic range, which gives crisp images with rich color.
Last update was on: October 23, 2021 1:18 am
back to menu ↑
HP Stream HD Laptop
This is a small 11.6-inch laptop from HP that is suitable for studying online. The compact size makes it portable and easy to handle. It comes with a strong WiFi 5 and Bluetooth 5 connection.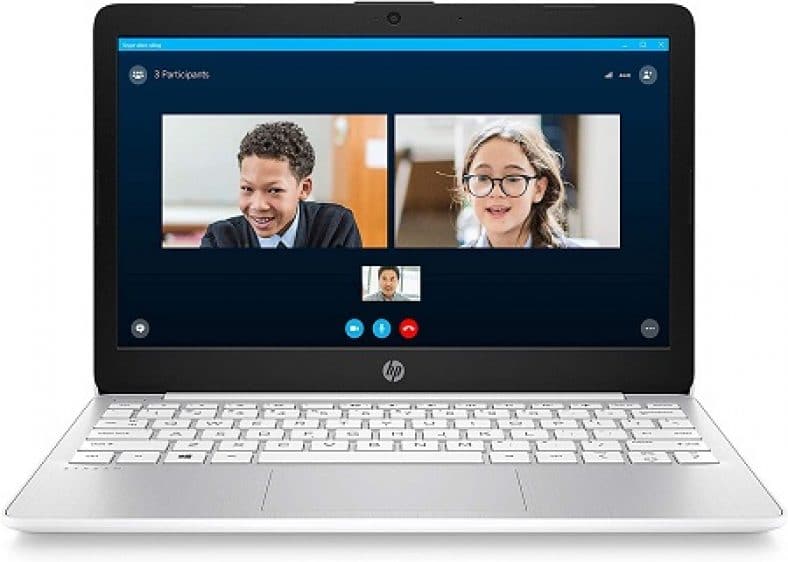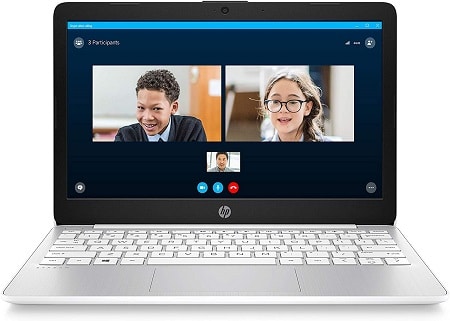 The laptop has a slim, expressive design with stylish looks. The screen has a backlit display with anti-glare property and a 73% screen to body ratio.
It uses an Intel Celeron N4000 dual-core processor with a 1.1 GHz base frequency up to 2.6 GHz. It has an internal storage of 64 GB eMMC and 4 GB of RAM.
You can improve your productivity with the most secure Windows ever built with Office, Microsoft Edge, Windows Defender and more features that protect you against phishing and malware.
With this laptop, you get full access to Office 365 applications for one year along with 1 TB of storage on OneDrive. It has a long battery life that allows you to work for long hours.
Last update was on: October 23, 2021 1:18 am
back to menu ↑
HP Pavilion Convertible Laptop
HP Pavilion is powered by the latest 10th generation Core i5 processor from Intel. It has a base speed of 1.0 GHz with a max turbo speed of 3.6 GHz. The quad-core, eight-way processing is highly efficient, with Intel Turbo Boost Technology delivering extra power when needed.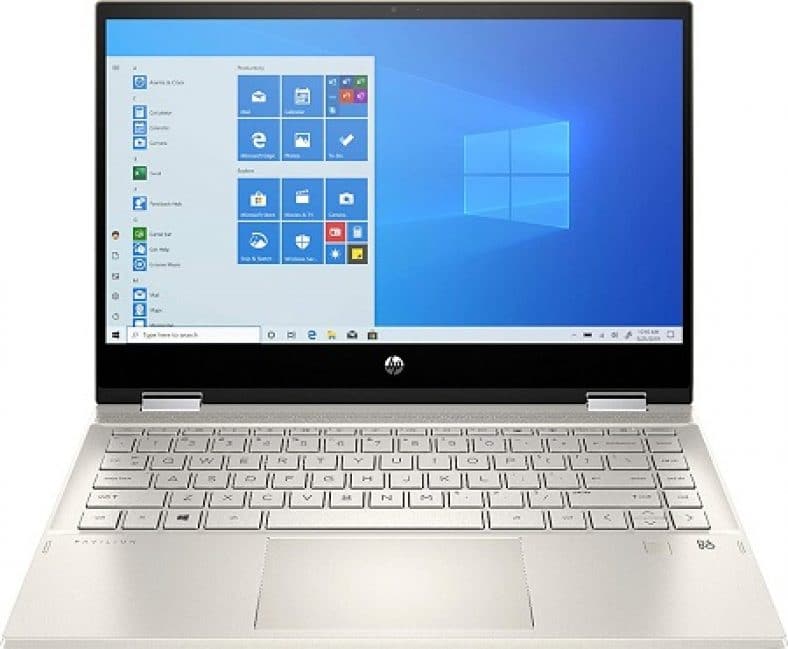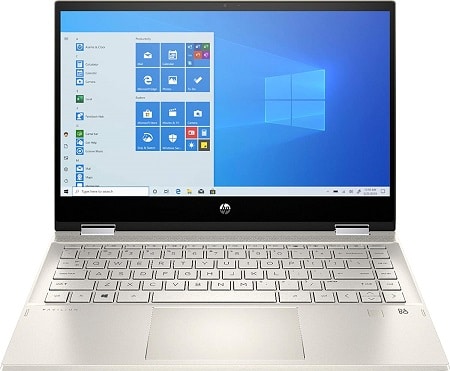 The laptop has a beautiful 14" multitouch HD screen with 1920×1080 resolution that delivers impressive color and clarity.
You can make the most of Windows 10 with the touchscreen as you touch, tap and glide your way to work. The screen has an energy-efficient LED backlight and IPS technology for wide viewing angles.
The laptop has enough power for seamless multitasking with 8 GB RAM and 256GB PCIe SSD + 16GB Optane Solid State Drive that saves files fast and stores more data.
It has a variety of ports available for easy connectivity with your peripheral devices. The fingerprint reader provides easy and secure access to the laptop. The backlit keyboard allows you to work in dim light conditions.
Last update was on: October 23, 2021 1:18 am
back to menu ↑
Dell Inspiron 3000 Laptop
This laptop from Dell is designed for long-lasting performance and speed, making it a good choice for students. It has the latest 10th generation processor of the Intel Core i3 series that lets you get through tasks quickly.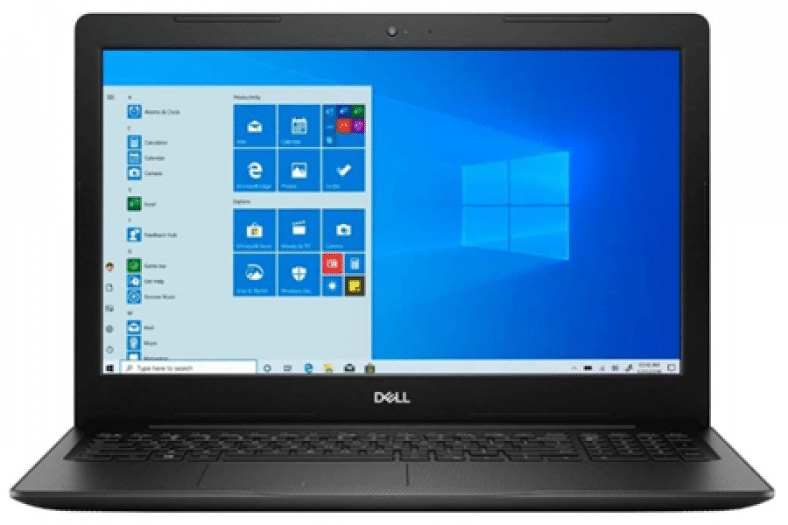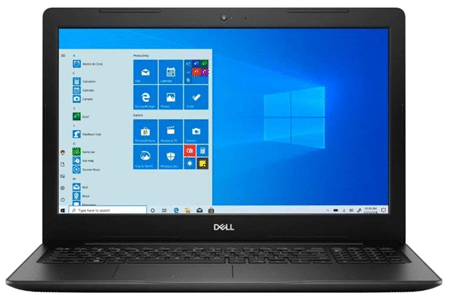 The Inspiron 3000 has 8 GB RAM for smooth multitasking and dual hybrid storage of 128GB SSD and 1TB HDD for rapid boot times. It has a base clock speed of 1.2GHz and a boost speed of up to 3.4GHz
It has a 15.6 inch touchscreen with a resolution of 1366×768. You can easily navigate, browse and surf the internet using the multitouch display.
Last update was on: October 23, 2021 1:18 am
back to menu ↑
Lenovo IdeaPad 3 Laptop
Lenovo Ideapad 3 is powered by the latest AMD Ryzen 3 3250U processor with Radeon Vega 3 graphics. The multi-core processing power offers incredible bandwidth for faster clock speeds and multitasking in several applications at once.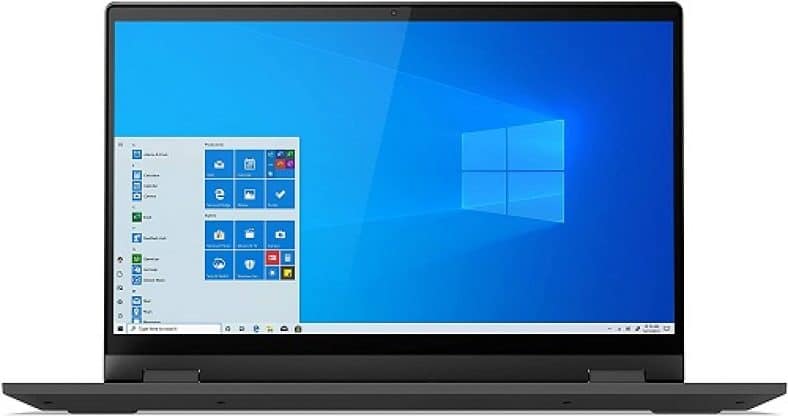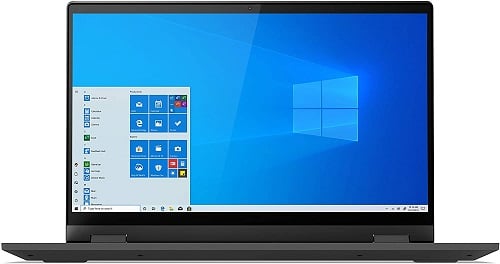 The device delivers beyond expectations thanks to the powerful processor and 128 GB SSD drive. The keyboard has a handy numeric keypad, which is especially useful for students.
The 15.6" full HD screen has narrow bezels with a resolution of 1366×768. Combined with Dopoundsy Audio, the laptop delivers great visuals and crystal clear sound for maximum entertainment.
The laptop prioritizes privacy with its physical webcam shutter. It can be closed when not in use. This straightforward method will guarantee privacy at all times.
Last update was on: October 23, 2021 1:18 am
back to menu ↑
Dell Inspiron 14 5491 Convertible Laptop
Inspiron 5491 is powered by one of Intel's strongest processors: the 10th generation Core i7. This provides you with ample power to carry out heavy tasks. Multitasking is easy with 8 GB RAM and 512 GB SSD storage to make everything smooth.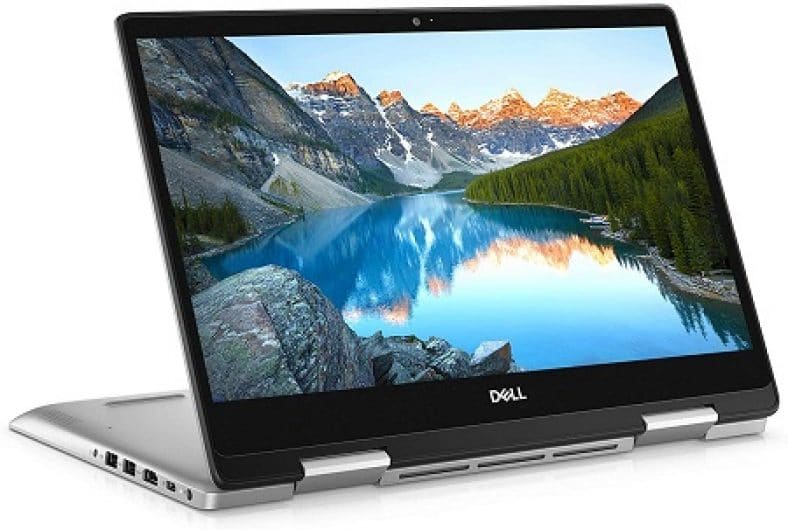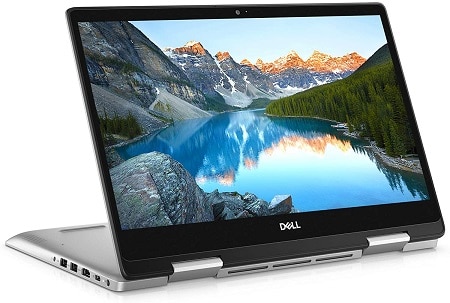 The laptop has a dynamic design with narrow borders for extra screen space. The full HD screen delivers gorgeous visuals without sacrificing image quality. The IPS display makes it possible to view the screen from wide angles without any distortion.
This is a 2-in-1 device, as you can fold back the keyboard and use the device as a tablet. The flexible body is made from premium materials like aluminum that looks good in any environment.
The backlit keyboard allows you to type in dim light conditions or when you need to use the laptop in your bed before sleeping. The multifunctional USB Type-C port has expanded peripheral compatibility so that you can plug in a variety of devices with a single connection.
The laptop comes with Dell Mobile Connect software that wirelessly integrates your smartphone with your PC. Using this feature, you can interact with your favorite apps from your laptop itself.
Last update was on: October 23, 2021 1:18 am
back to menu ↑
Lenovo Chromebook Flex Laptop
This laptop has the latest 10th generation Intel Core i3 processor that offers superior intelligent performance features. It adapts to your usage patterns and the things you do for a more personalized, intuitive and responsive Chromebook experience.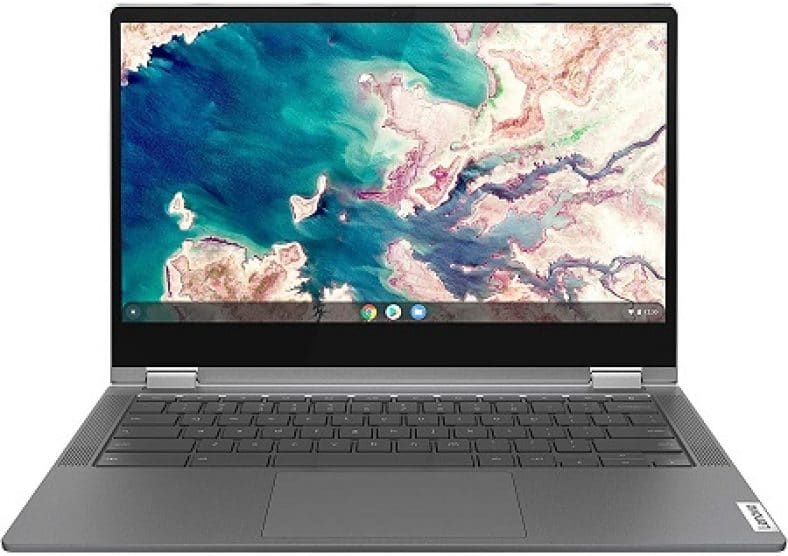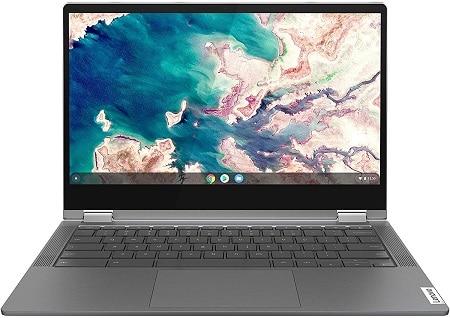 It has 4GB of RAM with 64GB eMMC SSD storage. The streamlined Chrome OS interface gives you access to the library of apps on Google Play, custom Google Maps wallpapers and images, and more.
The laptop has a 360-degree hinge that is flexible and can be used any way you want. You can fold it completely to use it as a tablet, or can be kept in tent mode for watching videos.
In laptop mode, it will offer optimal comfort and typing experience. The keys have a 1.4 mm travel distance.
The keyboard is fully backlit, which makes it easy to work in low-light conditions. It has a 10-hour battery life, so you can work on the go without worrying about running out of power.
It has an impressive full HD IPS display with narrow bezels to provide an immersive viewing experience. It has a wide viewing angle, so the screen can be viewed by other people as well. The touchscreen provides an intuitive interface, making it easy to operate and navigate.
You can be assured of an efficient workflow with the number of ports and connectivity options offered by this laptop. The built-in WiFi is one of the fastest and most reliable connections available.
Last update was on: October 23, 2021 1:18 am
back to menu ↑
Microsoft Surface Pro 7
Microsoft offers a next-gen, best-in-class laptop that has the versatility of a studio and tablet. It allows you to browse, type, touch, draw, write, work, and play more naturally than traditional laptops. The kickstand can be lowered for a comfortable drawing or typing experience.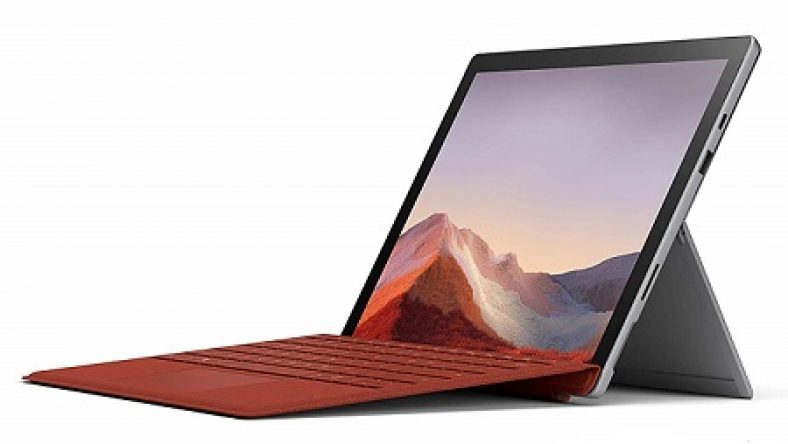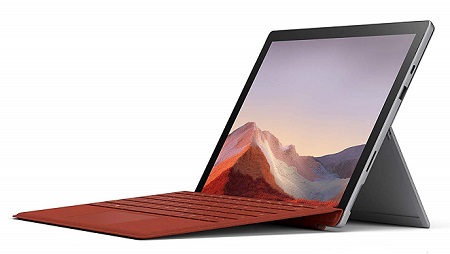 It is powered by the latest 10th Gen Intel Core processor making it fast and ultra-responsive. It has 8 GB RAM with 128 GB of SSD storage so that you can effortlessly multitask. It also ensures quick boot-up times and fast loading of applications.
The laptop offers more ways to connect your peripheral devices like displays, docking stations, mobile phones with USB Type-A and USB Type-C ports. They can also be used for charging accessories.
The sleek design will make you stand out from a crowd. It is extremely slim and lightweight at just 1.7 pounds with an aspect ratio of 3:2. You can carry it wherever you go as it has 10.5-hour battery life. It also has the ability to go from empty to almost 80% in just one hour.
It has the familiar Windows 10 operating system with features like Windows Hello for a voice-enabled, password-free sign in. The integrated OneDrive cloud service can be used to safely store your photos and files.
Last update was on: October 23, 2021 1:18 am
back to menu ↑
MSI Prestige 14 A10SC-230 Professional Laptop
This laptop from MSI is built to deliver high performance with lightweight portability. It features the latest 10th generation Intel Core i7 processor. It has an ultralight design which weighs just 2.64 pounds.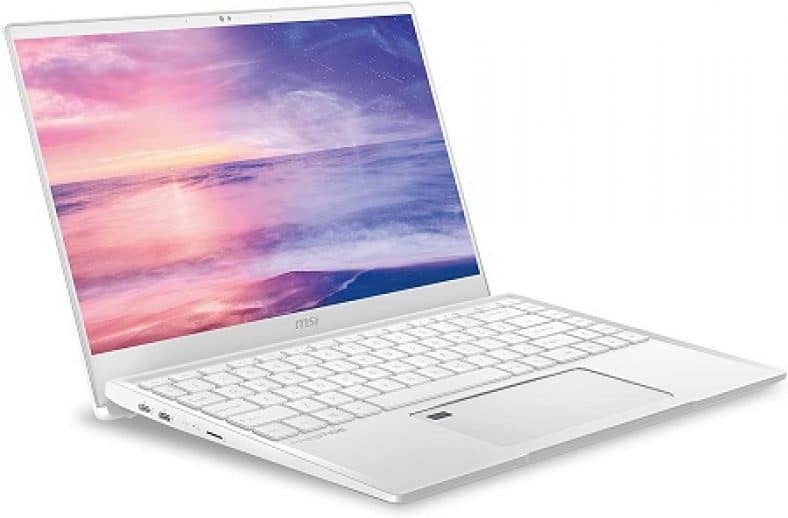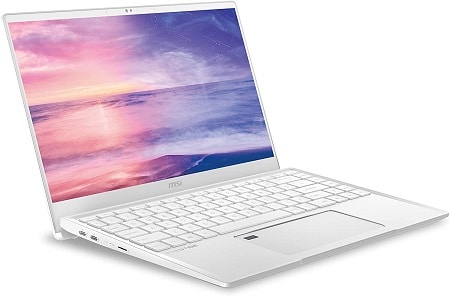 The laptop is also equipped with a powerful GeForce GTX 1650 graphics card from Nvidia. While not necessary to study online, this is extremely useful for architecture, engineering, animation and graphic design students as a graphic card is needed to learn the necessary software. The Nvidia studio drivers ensure you get the best performance and reliability to unleash your creativity.
It has a massive 16GB RAM that allows you to multitask between demanding applications with ease. The 512 GB SSD storage ensures quick boot-ups and faster loading times.
The screen has a 4k resolution with a pixel density of 220PPI. It has a wide color range with high accuracy that delivers lifelike visuals.
The laptop has an elegant design with its aluminum chassis. It has a 180-degree lay-flat hinge that makes it convenient to share ideas and designs.
It has a long-lasting 10-hour battery life with a Thunderbolt port for quick charging. It also has a USB Type-C port to charge your mobile or power banks.
Last update was on: October 23, 2021 1:18 am
back to menu ↑
Additional Accessories for Online Studies
While a good laptop might be enough to cover all your studying needs, there are a few accessories that you should consider buying that will enhance your learning experience.
Noise-cancelling headphones
It can get quite irritating and distracting to study in a noisy environment. Moreover, if you are watching online lectures, it can get difficult to comprehend what the speaker is saying.
A noise-cancelling headphone can not only help you concentrate by filtering out unnecessary noise but also delivers crystal clear sound with rich texture.
Speakers
Many people dislike the weight of headphones and the way it sits on the ears. Prolonged use also causes headaches and physical discomfort of the ears. In this case, getting a pair of speakers might be a good option.
They can be really loud and can drain out other noise. You can also set the volume as per your comfort level.
Flash drives/ Pen drives
These portable mini storage devices are very handy. You may think that they have become obsolete with the increasing use of online sharing software, but it is not so. It is always good to have your important documents and notes stored on it.
This way, you can access them on any computer. This can be quite helpful as you cannot always carry your personal laptop with you.
Laptop stand
It is recommended that laptops are kept on a tabletop or a hard surface when in use. If you prefer to study on the bed or the couch, you may be using the laptop by keeping it on your legs. This is harmful to both your legs and your laptop.
A laptop stand is a perfect accessory for you as it will prevent direct contact of the laptop with your skin, and you can work comfortably from your choice of seating.
Soundance Laptop Stand
Laptop Stand Adjustable
Nulaxy Laptop Stand
We hope to have helped you choose the best laptop for online studies irrespective of your field. We have also mentioned the additional accessories that complement your laptop.