Are you a creative pro? Are you looking for a laptop for your design and art needs? If yes is that you answered, we have got you covered. All you need is the performance that will help you bring your inspiration or ideas to live, and we understand that. This updated list of the best laptop for drawing artists mentioned below will help you make the right decision.
Being in the creative field, you would have to work with some software, and those should be compatible with the system you are looking to buy. All the laptops may look the same, but the configuration is what matters. You may not be able to work with the laptop that fits for home use, for the reason that the configuration differs. Thus, look for the device that would support the kind of software you would need. There is much software available across the web, from simple features to complex ones like photoshop used for editing photos. The article does not specify the software supported by the laptop as the needs differ from people to people.
Let's jump onto the options of the best laptop for artists available on Amazon. Before you hit the list, make certain that you have your needs and budget fixed. Since there are many options available with similar configurations, it might be confusing for you to pick one. The below laptops meet the minimum system requirements set by Adobe to use their famous Illustrator by artists.
If you want to have the basics clear, scroll down to our laptop buying guide. It will help you to make your final decision. Also, your budget and specifications will help you do the needful without spending a lot of time as well as efforts.
The list of options mentioned below is in no particular order. You can choose the one that fits your needs and budget the most.
List of Best Laptops for Drawing:
Microsoft Surface Pro 7 [
Best Windows Laptop

]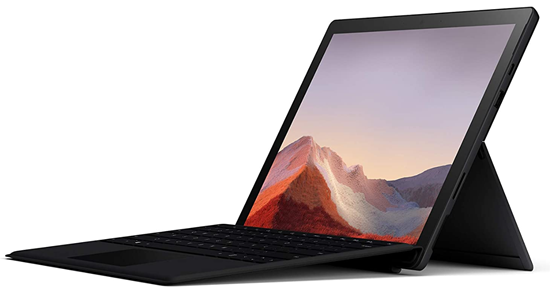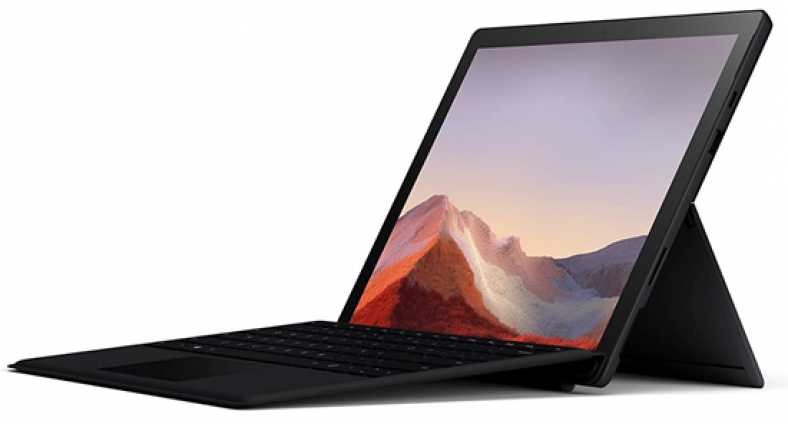 Lately 'Microsoft Surface Pro' took the laptop market with a storm with its sleek, and eye-catching design. Though all laptop from this series almost looks similar, it seems like Microsoft hit the right design in its first go and kept the same for all its variants.
The latest version of the Microsoft Surface Pro 7 series is equipped with the latest 10th Gen Intel processor, freedom to choose required storage and long-lasting battery life. It is a two-in-one laptop that can be used as a tablet and comes with a 10th generation Intel Core i5 or i7 processor which boost the overall performance of the laptop. The user can choose either 8GB or 16GB RAM and the storage could range from 128GB to 1TB. The most costlier variant of this laptop has 1TB SSD with 16GB RAM and run on a 10th generation i7 Intel Core processor. If you are buying this laptop only for drawing, then you do not need to go for the higher-end specs like this. But, if you are planning to use this device for multi-purpose, graphics designing and 3D animation, then go for the correct model initially. So, if you are looking for a laptop that provides a lot of space without compromising performance then this can be a good option to consider.
The latest version has Windows 10 Home and comes with a long-lasting battery life that can run up to 10.5 hours. With just 1.7 pounds weight and such a durable battery, you can carry it anywhere. It's an ultra-portable laptop in the true sense. Overall, this ultraportable laptop can be a good machine for drawing artists.
Specifications:
Display –  12.3-inch PixelSense display with 2736×1824 pixel resolutions

Processor – Available in 10th generation i5/i7  Intel Core processor

RAM – Available in 8GB/16GB

Hard Drive – Available in 128Gb/256GB/512GB and 1TB SSD

Graphics – Intel Iris Plus

Weight – 1.7 pounds

Battery life – 10.5 hours

12.3" PixelSense Touchscreen with pen input 2736 x 1824 resolution
PROS:
Responsive and fast
Lightweight
Less bootup time
Premium build quality, 

Sleek and sturdy design with a matte finish

All-day battery life

Fast performance
[content-egg module=Amazon template=custom/simple_list next=1]
Lenovo Yoga C940-14 FHD Touch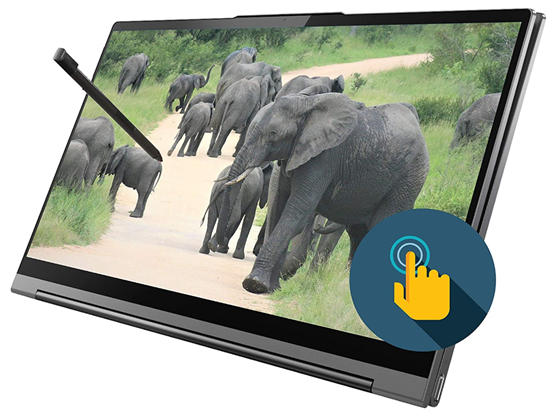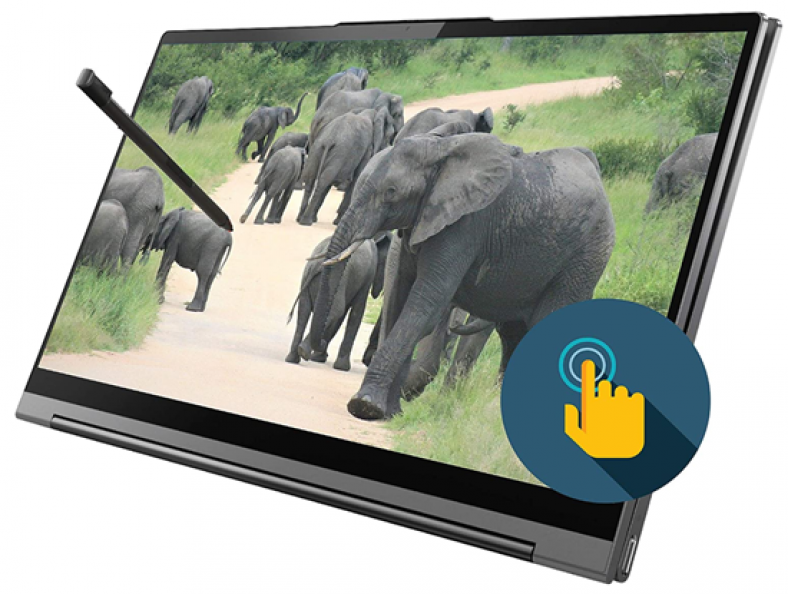 Its hinged screen is the reason why it named a Yoga laptop, and this latest model has powerful hardware to make this model one of the best options for artists. 
Lenovo started building the series of laptops famously called 'Flagship Yoga Laptops' in 2012, and they kept improving upon their original laptop with the latest technology. In 2021, they have focused on the overall performance of the laptop, and with that view, we now can get access to the latest processor. 10th generation Intel Core i7 processor, 12GB RAM, and 512GB SSD hard drive is a perfect combination that you in this nicely designed 2-in-1 laptop.
Apart from this, the 14-inch wide display has a Full HD with IPS LED backlight technology and 10-point multi-touch operation. It runs on Windows 10 Home 64-bit operating system and has enough ports including Thunderbolt. It approximately weighs 3 pounds and has good battery life. Though it is lightweight and easy to carry around, you need to pay attention to its battery life as it will not run all day. The Lenovo Active Pen is part of the laptop bundle. With the excellent touch screen and the active pen, drawing on this laptop should not be an issue for anyone.
Specifications:
Display – 14-inch FHD, LED Backlight with 1920×1080 pixel resolutions

Processor – 10th Gen Intel Quad-Core i7 (1.30GHz to 3.9GHz)

RAM – 12GB DDR4

Hard Drive – 512 GB SSD

Weight – 3 pounds

Windows 10 64-bit
PROS:
Fast performance

Lightweight and portable laptop

Better connectivity with the latest ports
CONS:
Below-average battery life
[content-egg module=Amazon template=custom/simple_list next=1]
Microsoft Surface Book 2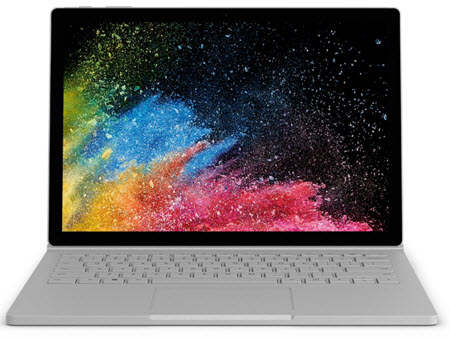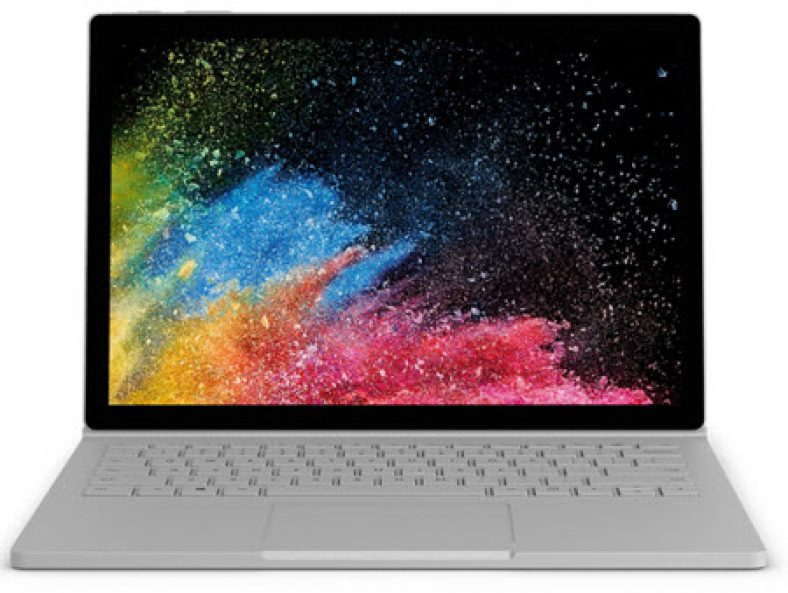 This Microsoft Surface is the latest version of the Microsoft Surface Pro series. The premium quality 2-in-1 laptop comes with exceptional graphics and it is engineered with great innovation by Microsoft. If you are an artist, you'll love the 13.5" screen display with a rear webcam resolution of 8 megapixels. The enhanced graphics technology will meet your digital artwork needs.
You can conveniently detach the screen with the keyboard as compared to the previous models of the surface book Pro series. It also comes with a surface pen that works smoothly without any disruption. You can draw a sketch or write a draft without worrying about the pen losing the ink. This is a portable device that gives you the versatility of using it as a tablet and a laptop.
Specifications:
Storage: 512 GB SSD
RAM: 16 GB
Graphics coprocessor: Nvidia GeForce 1050
Display: 13.5" Full Screen
Operating System: Win 10 Pro
8th Gen Intel Quad-Core i7  
PROS:
Updated and improved version of surface Pro series
Less startup time
Surface Pro pen gives you smooth functions
Four versatile modes of the device
Premium quality 2-in-1 laptop
The fast and efficient processor
[content-egg module=Amazon template=custom/simple_list next=1]
Samsung Notebook 9 Pro Laptop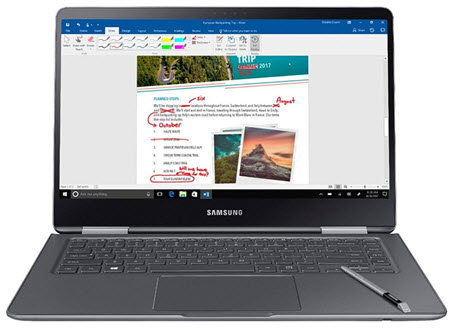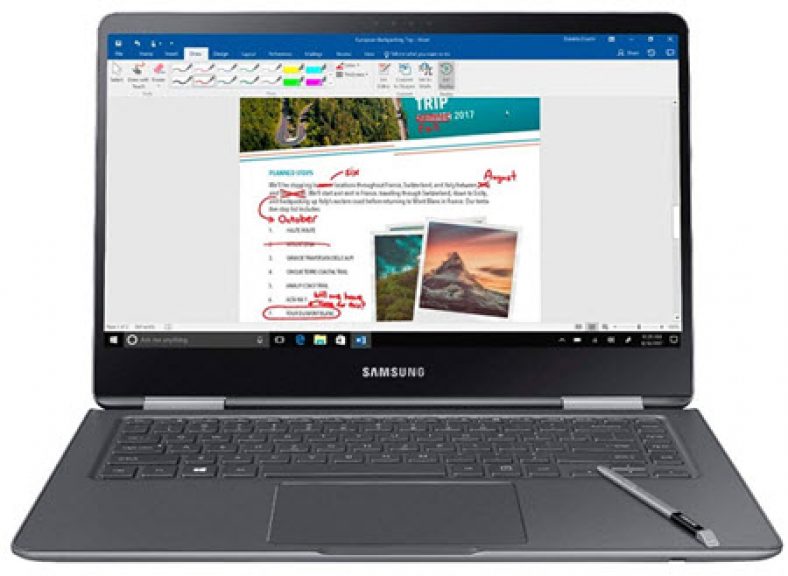 This is a 2-in-1 touch screen laptop which is the latest version of the Samsung notebook. It comes with amazing versatility and flexibility. Artists would love the brilliant full-screen HD 15 inches touchscreen. It comes with a pressure-responsive pen. The pen gives you the ease of precisely concentrate on your work.
You can create any drawing or piece of art with the help of the built-in pen. It does not require any charging. You can use it anywhere you want. This laptop comes with an ultra-fast core i7 processor. It allows you to perform with the efficiency you desire to complete a number of tasks all at once. You can create and browse at one time.
This is a lightweight laptop that is easy to move around. If your work requires you to travel a lot, you can take it along with you without any inconvenience. This laptop can be used in tablet mode as well. This is the perfect laptop for artists and drawing enthusiasts. It gives them increasing productivity with amazing features like quick selection, note creation, and gesture support. As an artist, you can take advantage of these features and improve the quality of your work.
Specifications:
Display: 15" Full HD Touch LED-Backlit Display
Processor: 8th Generation IntelQuad-Core-i7
RAM: 16 GB
Hard Drive: 256 GB
Battery Life: 12.5 Hours
Weight: 3.79
Windows: 10
PROS:
Smooth finish and quality built
Fast and efficient charging
Unparalleled performance and productivity
High-capacity 12 hour battery life.
S-pen gives you different levels of pressure for great accuracy
The 8th Generation Processor is powerful and fast.
Gives you an amazing display with a 15" full HD Screen
The 2-in-1 laptop can be used in tablet mode as well.
CONS:
The display is not satisfactory
[content-egg module=Amazon template=custom/simple_list next=1]
HP Spectre X360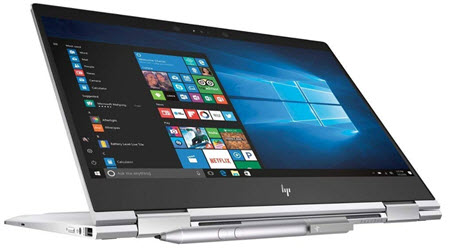 This is a suitable option for artists and drawing enthusiasts which gives them the versatility of sketching and taking notes. It comes with all the different drawing applications you require to be creative. You can use Adobe Photoshop and other drawing software applications easily. This is a lightweight 2-in-1 laptop that can be taken anywhere you want. You can take it with you to your class and library.
Not only it gives you the accuracy of drawing what you want but you can use this laptop for different purposes. It can be used as an entertainment center. You can play video games and enjoy listening to music. The 8th Generation Intel Core i7 processor lets you multitask on your laptop without worrying about crashes. You can use different kinds of software all at once.
This laptop comes with a stylus pen. You can take your creativity to the next level. The fingerprint reader lets you keep your work safe and secure. Nobody can steal your work and copy your artwork designs. The 13.3" touch screen gives you a bright view of the pictures and videos. The Intel UHD Graphics 620 gives you an accurate graphic display. 
Specifications:
Display: 13.3" FHD touch screen
Processor: Intel Quad-Core i7-8550U
RAM: 8 GB
Security: Fingerprint reader
Bluetooth Technology: Bluetooth 4.2 Connectivity
Battery life: 12.75 hours
Weight: 6.88 pounds
Graphics: Intel UHD Graphics 620
PROS:
You can multi-task smoothly
Windows 10 Operating System
Intel Quad-Core i7 8th Generation Processor
Amazing touch screen display
[content-egg module=Amazon template=custom/simple_list next=1]
Lenovo Yoga C930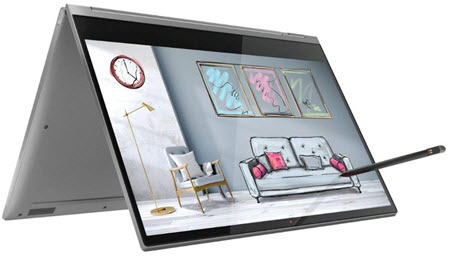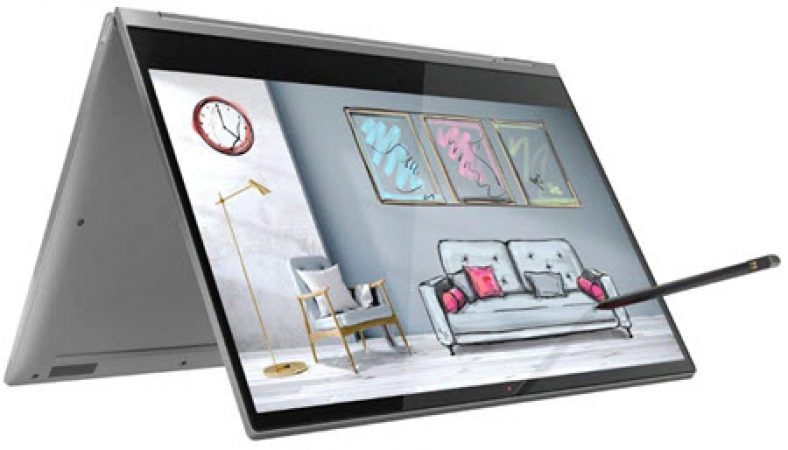 If you are looking for the best laptop for your digital artwork, Lenovo Yoga C930 is a great choice. This laptop comes with all the features an artist requires to take his work to the next level. This laptop allows you to be productive no matter where you are. With a weight of only 3.04 pounds, you can easily carry it anywhere. This laptop comes with a stylish metal look. It is available in different color options.
For artists and digital drawing lovers, this laptop comes with a stylus. There is a stylus holder at the back where you can place the stylus when not in use. The stylus is flexible and precise; it gives you optimal pressure handling to create outstanding artwork.
The flip flop design of the laptop makes it a convertible laptop. You can rotate it at an angle of 360 degrees and use it as a tablet. Artists find it convenient to use this laptop as a tablet by drawing with a stylus. Not only you can store the pen in the built-in pen garage but you can also charge it. With the powerful Intel Core i7 processor, you can open multiple labs on Google chrome without worrying about crashing your laptop.
Specifications:
Display:  13.9 HD Full Screen 1920×1080 Resolutions
Processor: Intel 8th Generation Core i7
Battery life: 12 hours
Weight: 3.04 pounds
Graphics: Intel HD Graphics 620
RAM: 12GB
PROS:
360 degrees flip-flop design
Built-in HD Webcam
Light-weight and compact
Powerful processor
[content-egg module=Amazon template=custom/simple_list next=1]
Lenovo ThinkPad X1 Tablet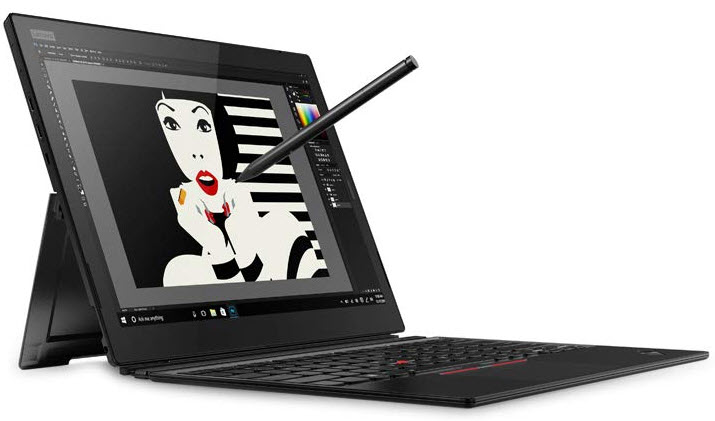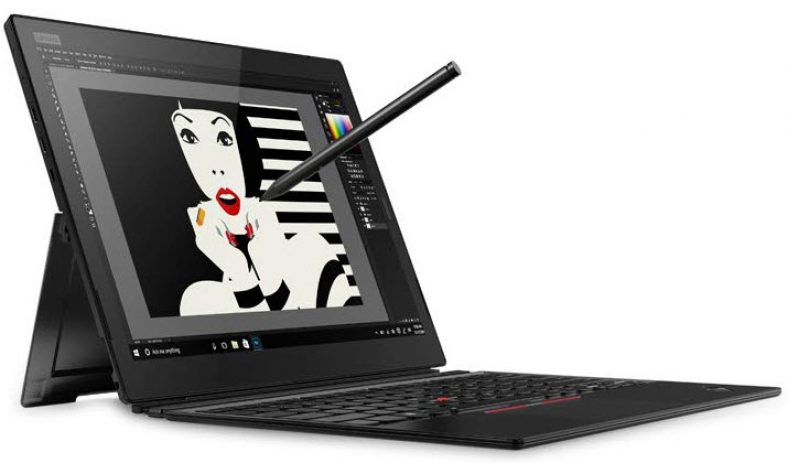 If you are an artist who is looking for a super light-weight design laptop, the Lenovo ThinkPad tablet laptop is what you need. This is a 2-in-1 laptop which gives you the convenience of using it as a laptop and a tablet. It comes with a detachable keyboard. You can remove the keyboard if you don't need to use it. There is a keyboard connector that lets you attach the keyboard with ease. You can do all your office work without any hassle. You can write emails, draw sketches and take notes with the help of a Lenovo ThinkPad laptop.
With the dependable Think Pro pen, you can accurately sketch your best digital designs. The full-screen display is 13 inches. You can be productive with the optimal display results. This digital pen lets you make precise designs in a flow. You don't have to worry about running out of ink.
Lenovo uses Corning Gorilla Technology to make this laptop sturdy and strong. A drop will not smash your device down.
With the LTE-A Plus technology, you can always stay connected to the internet even when you are away from the Wifi. This system comes with a finger reader and a voice control system. You can wake the operating system up with your voice. Compared to its competitors, it gives you better FIDO security.
Check out the features mentioned below:
Specifications:
Display: 13.9" FHD Touch screen
Processor: 8th Generation Intel Core i7-8550U
Lithium Polymer Battery
RAM: 8 GB
Detachable keyboard
Weight: 2.8 pounds
Operation System: Windows 10
Battery life: up to 10 hours
Sharp and bright display
PROS:
You can control the device with Alexa
The battery life is sufficient enough
Sharp and bright display
Dolby Audio Premium
Touch fingerprint reader for optimal security.
CONS:
The browsing experience is not satisfactory
The keyboard gets disconnected again and again.
[content-egg module=Amazon template=custom/simple_list next=1]
Lenovo Yoga 920 – 13.9″ 4K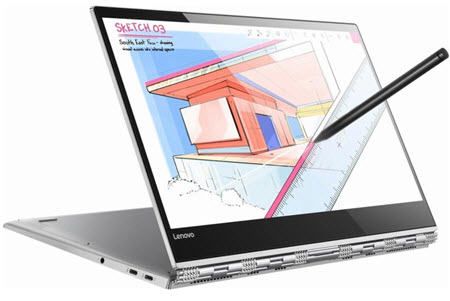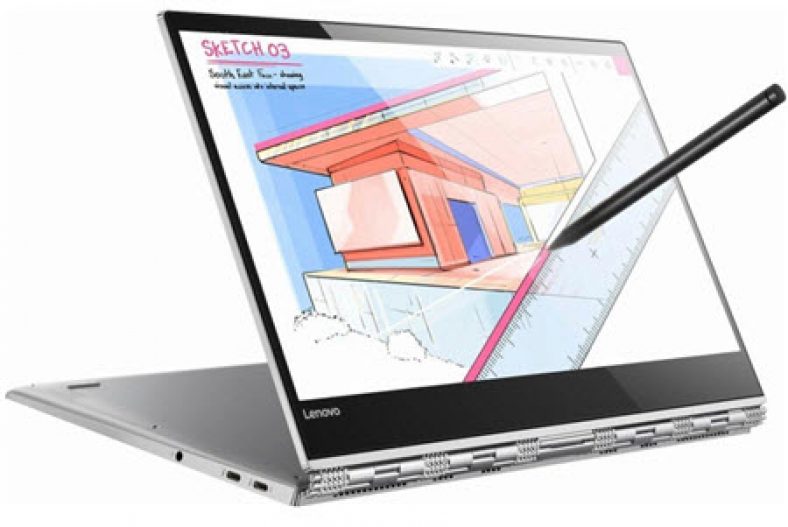 Lenovo Yoga 920 comes with all the specifications you expect from a premium quality laptop. This is a super slim laptop that weighs only 3.02 lbs. It gives you extreme portability. Lenovo Yoga 920 is an advanced version of Lenovo 910. The built-in HD webcam is placed below the screen. You can take flattering shots with it. The laptop also comes with 4 microphones. It also comes with a headphone and microphone combo jack. You can enjoy a video chat with your loved ones with comfort and ease.
The 4K touch screen lets you control the functions smoothly. Your fingers glide on the touch screen without any issue. It allows you to perform multi-touch gestures. It also comes with a USB 3.0 port. You can charge your tablet or cell phone even when the laptop is turned off. Lenovo Yoga 920 also comes with a Lenovo Pen.
There is no lag while sketching or writing anything with this pen on the screen. Whether you want to draw the perfect artwork or you want to write an important document, the pen is quite adaptable. It can handle 4096 levels of sensitivity. It gives you the right amount of pressure to accurately draw what you require.
Specifications:
16GB RAM
8th Generation 1.8 GHz Core i7 8700 Processor
10.8 hours of battery life
Next-generation wireless connectivity
Intel UHD Graphics 620
PROS:
Sleek and light-weight design
Precise and accurate pen
Fast and efficient
CONS:
The graphics quality is not good enough.
[content-egg module=Amazon template=custom/simple_list next=1]
HP ENVY x2 12-inch Detachable Laptop with Stylus Pen and 4G LTE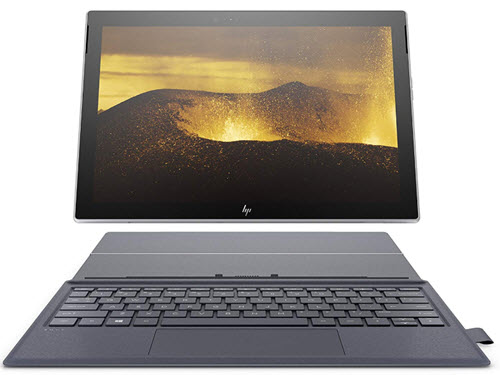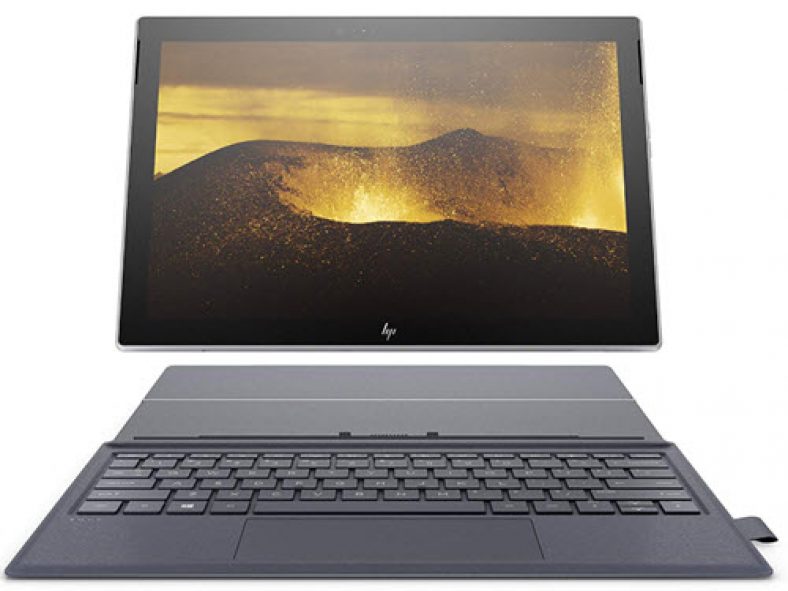 One of the stylish and longest battery life laptop for artists on this list. HP ENVY x2 was built by the new technology with the real mobile processor Qualcomm Snapdragon 835 and 4G LTE connectivity. It has the Gorilla Class for better screen protection and the touchscreen supports their HP Digital Pen. The digital Pen comes within the package, so you do not need to pay anything extra.
The processor and RAM are not at the high end, but considering its portability and stunning design with the touchscreen/Pen. The laptop comes with the basic features that are sufficient to have a good start. Listed below are the specifications that, will help you make the right decision.
Specifications:
Qualcomm Snapdragon 835, 8 Core 2.2 GHz)
128 GB SSD
4 GB Memory
12.3″ Touchscreen with Corning Gorilla Glass
4G LTE supported with SIM slot (SIM not included)
PROS:
Great touch display
22 hours of battery life
Lightweight
4G LTE supported
CONS:
Limitations of Qualcomm Snapdragon
4GB RAM & Not Upgradable
[content-egg module=Amazon template=custom/simple_list next=1]
Flagship HP Pavilion x360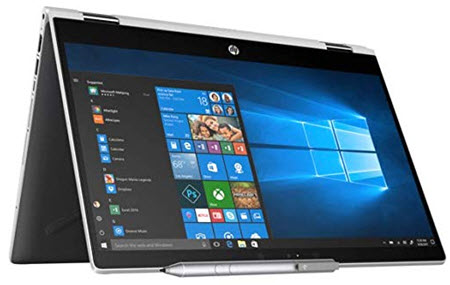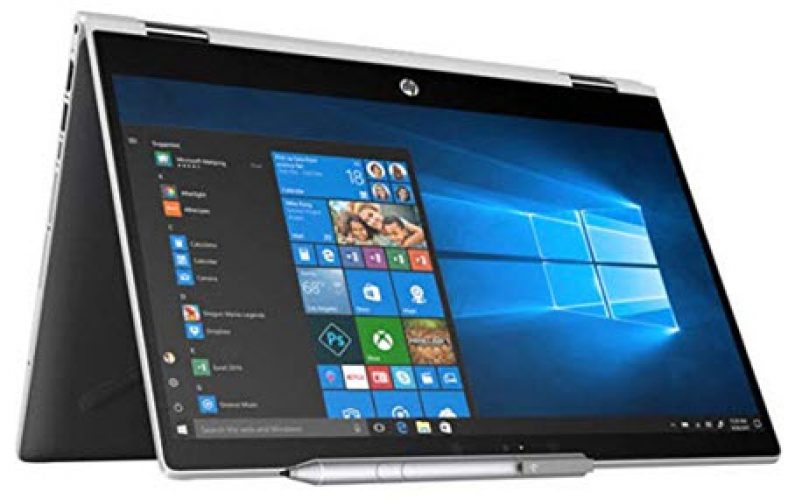 If you are looking for a versatile laptop that fulfills your office needs, Flagship HP Pavilion is a great choice. This device is suitable for gaming, drawing, and watching movies. It comes with an ample amount of storage space. The hard drive has a storage capacity of 256 GB SSD. You can use this device with a touch screen and a keyboard.
The touch screen can rotate at an angle of 360 degrees. It comes with a powerful Intel Quad Core i5-8250U Processor, which makes it run fast. It gives you the optimal performance to handle various tasks.
You can use the active stylus pen to sketch different kinds of artwork. It gives you smooth and accurate functioning. Flagship HP Pavilion gives you outstanding clarity and display. You don't have to settle for average laptop features when you have HP Pavilion.
Specifications:
Display: 14" Full HD Screen
1920X1080 resolution
Active stylus pen
Processor: Intel Quad-Core i5-8250U
IPS Technology
Dual Speakers
Backlit Keyboard
Intel UHD Graphics 620
Weight: 3.79 lbs
Operating System: Windows 10 Home
PROS:
Strong build quality
Powerful processor
Windows 10 Home
IPS Technology gives you a wider angle view
CONS:
The battery life is not good enough.
[content-egg module=Amazon template=custom/simple_list next=1]
Apple 15″ MacBook Pro [
Top Pick

]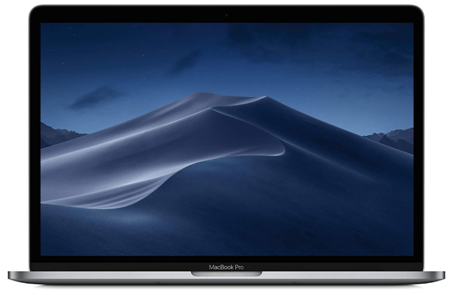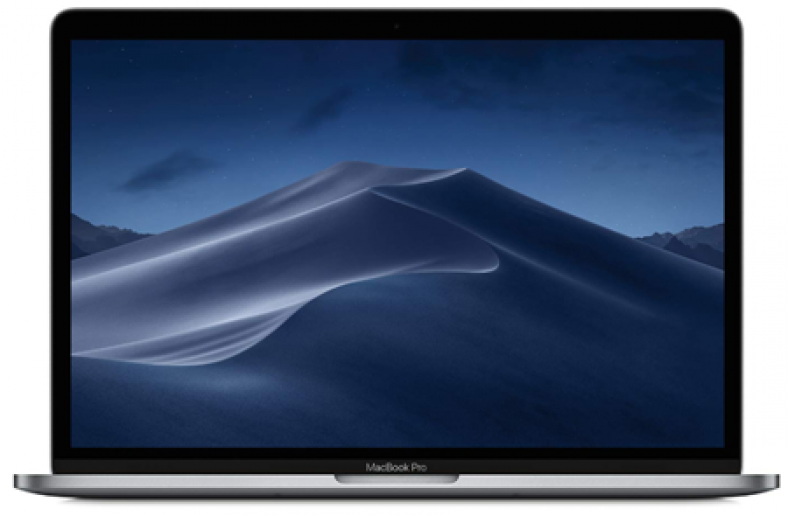 Apple products have been considered to be the best quality products on the market. Apple never fails to impress its fans, and it has managed to do the same with the Apple 15″ MacBook Pro as well. The laptop comes with the latest configurations, and it is worth buying for all the artists.
It is considered one of the best laptops for drawing due to its multiple amazing features that come in handy while using it.
Specifications:
2.8GHz quad-core Intel Core i7 processor
256GB SSD storage
Radeon Pro 555 with 2GB memory
16GB 2133MHz LPDDR3 memory
Screen resolution – 2880×1800 pixels
PROS:
Bright screen
High quality built
Long-lasting battery
Fast performance
Has Thunderbolt 3 port
CONS:
No HDMI and standard USB ports
Transferring data from a windows device can be a task
[content-egg module=Amazon template=custom/simple_list next=1]
What You Must Consider while selecting the laptop for drawing?
Investing in a laptop that fits your creative needs is very important. You do not want to lug around the heavy notebooks to run the powerful software. Choosing the best laptop for artists may sound simple to you, but it involves some research. There are certain creative needs that you need to consider while buying the laptop to ensure that the device will help you with your requirements.
Screen Resolution & Size – One of the most important features is the screen resolution and size. The laptop should have 1920 by 1080 resolution. The larger screen size would work great but it comes with a higher price tag. In case you have a limited budget, compromising on the screen size would do but not on the resolution.
Graphics card is another important factor that cannot be ignored in buying the best computer for artists. Investing in a high detailed 3D model is worth it but if you do not work on 3D then the 2D versions would be sufficient.
The weight of the laptop matters in this case because you, may carry the system with you to be able to work anytime when inspiration strikes. A lightweight laptop would be the best. Also, prefer buying a good matte screen over glossy because that tends to give reflections.
Having an SSD card on your laptop will make your system load fast. you will come across many systems that give you both options the traditional HDD and new SSD.
you may think that the RAM does not matter in this case, but the fact is it is essential for you to have sufficient memory on your device even to store temporary work. Remember, the operating system takes up memory as well. So, it is suggested to buy a laptop having a minimum of 8 GB of memory.
The above-mentioned list of laptops suitable for artists will certainly make your search simpler. Before you get on to purchase a laptop for your creative needs, make sure that you are certain about all your needs as well as budget so that you select the most appropriate laptop for you.